Welcome to my blog.  Over the years I've shared stories about my photography, podcasts that I occasionally appear on, and my exhibits and shows.  While I don't write on a schedule, I try to keep the blog updated with current news and musings.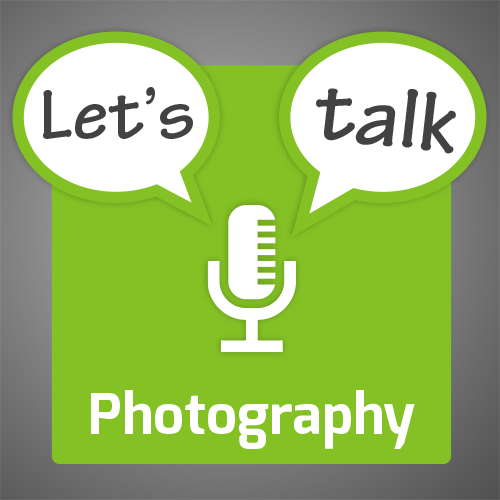 My friend, and talented photographer, Bart Busschots, hosts the monthly "Let's talk photography" podcast. I've been a guest several times and it is always a lot of fun and informative.  Here are the episodes I've joined, but I would encourage you to listen to the compete library and future episodes.
August 2015:
 The timing of this month's topic was perfect since I just spent two weeks at Twin Lakes. This month the panel discusses Shooting Vacations. The topics included how to include our friends and family in the photos, creating the story of our vacation, and finding time to spend with our passion of photography without incurring the wrath of unhappy family members.
April 2015:
 This month's topic is near and dear to me, landscape photography. The panel applied some of the general principles of composition we've discussed past episodes to creating interesting landscapes. Is there any truth to the value of shooting during the "golden hour?" What are some unique ways to turn an otherwise flat image into a story? It was a fun discussion.
February 2015:
 We continued our conversation about learning to use your camera, talking about adjusting white balance, bracketing, bulb mode and a bit more on focus modes. It was another fun and educational episode.
January 2015:
 With the giving season freshly behind us, January seemed like the perfect month to start as two-part series on understanding our cameras. All our cameras, regardless of manufacturer, share the same basic groups of features - they all have different modes for metering light, for focusing, and so on. In this first part we focus mostly on exposure and focusing modes.
December 2014:
 The holidays are upon us and they offer us a great opportunity to capture the joy of the season; the lights, family, winter, food and more. That is the topic of discussion on the December episode of "Let's Talk Photography" and I was happy to once again join in the conversation.
You can subscribe to the podcast in iTunes or get the show directly from the Let's Talk web page.
August 2014:
 I was happy to join the conversation again this month. In this episode we discuss sharing our photography in print and on-line. This subject is particularly interesting to me because I feel my photography improved dramatically we I began printing and exhibiting my art.  In this episode I share some of the techniques I use for printing and some of the avenues I've found to exhibit my work in galleries and shows.
You can subscribe to the podcast in iTunes or get the show directly from the Let's Talk web page.
July 2014:
 I was a guest on the Let's Talk Photography podcast for July.  In addition to myself and host Bart Busschots, the panel this month includes Kenny Lee, and Antonio Rosario from Switch to Manual. This is our first Listener Q&A show, and we answer questions from Scott & Allison about storing & organizing our photos, and white balance cards (Antonio recommends the
WhiBal
 range of cards). 
May 2014:
 I joined Bart Busschots, Antonio Rosario & Tom Martinez from Switch to Manual, and Ewen Rankin form the British Tech Network on the May edition of "Let's Talk Photography". The topic for the month is 'Shooting Small Stuff'. There's a whole other world out there if you look at the small scale, and you don't need to spend money on expensive macro lenses to join in the fun!  
Listen Here.
February 2014:
 The 5th episode of Let's Talk Photography is available.  In this episode we discuss the many ways that a photographer can get prepared before every firing the shutter.  Among the topics covered, we discuss simple preparations of the camera and equipment, researching to give yourself the best chance at the perfect shot, and preparing yourself for a day in the field.
January 2014:
 The 4th episode of Let's Talk Photography is available and I again had the pleasure to be a guest.  Every creative person has hit a wall or entered a slump and looked for a way out or the inspiration to create something new.  This week we discuss hitting a dry spell, hibernating in the winter or otherwise needing some motivation to get back to creating images.  It was a lively discussion and a lot of great ideas were discussed.
November 2013:
 I was back on the 2nd episode of the Let's Talk Photography podcast.  Today the panel discussed what you can do to improve your photography.  Beyond just "shooting more" which is necessary to advance your skills, we discussed productive sharing of images, expanding our scope and building on lessons learned.  The podcast does not focus on the tech and gear of photography, but on the true art and craft of photography.  It's a lot of fun chatting with friends about a subject I love and along the way we hope to share our view of photography with the audience.
October 2013:
 My friend, and talented photographer, Bart Busschots has started a new podcast "Let's Talk Photography."  I was happy to join him as a guest on the inaugural episode where we talk about composition.  Good composition can turn snapshots into images that tell a story, regardless of the gear you're using.  The conversation was a lot of fun and informative.
As this is the first episode, the feed is not yet on itunes, but you can get the audio directly from the 
Let's Talk site
.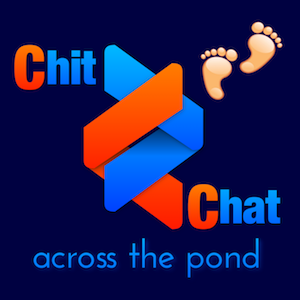 I was the guest on episode #410 of Chit Chat Across the Pond, hosted by Allison Sheridan. Allison and I had a great conversation about "thinking like a photographer" to capture unique and interesting images at well traveled and well photographed tourist spots. I share my recent experience of visiting Niagara Falls and my annual trip to the Skagit Valley Tulip fields. With some practice and forethought a person thinking like a photographer can create memorable photographs and not just tourist snapshots. The show can be downloaded directly at 
podfeet.com
 or you can subscribe in iTunes.
Here are the photos we talked about on this episode.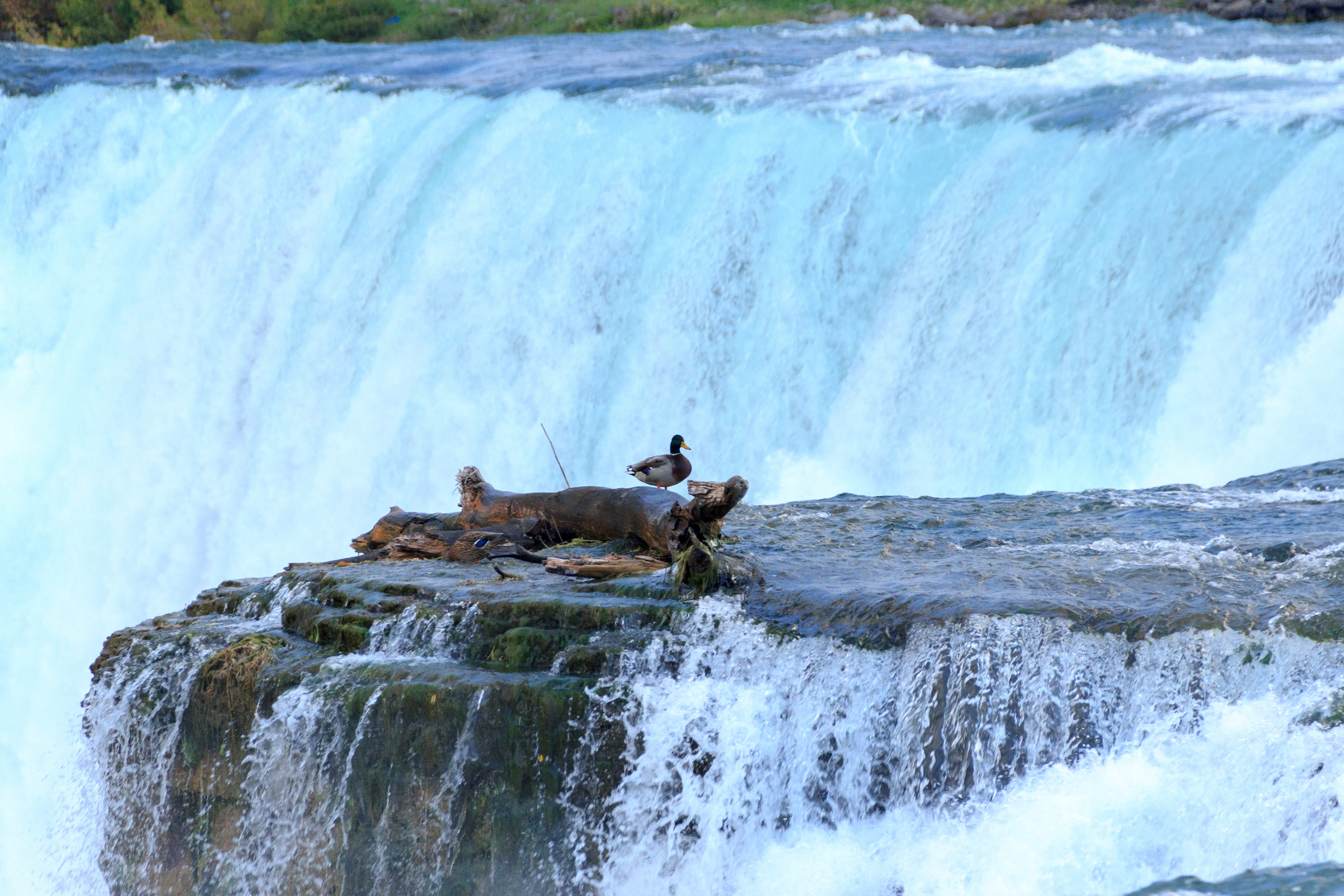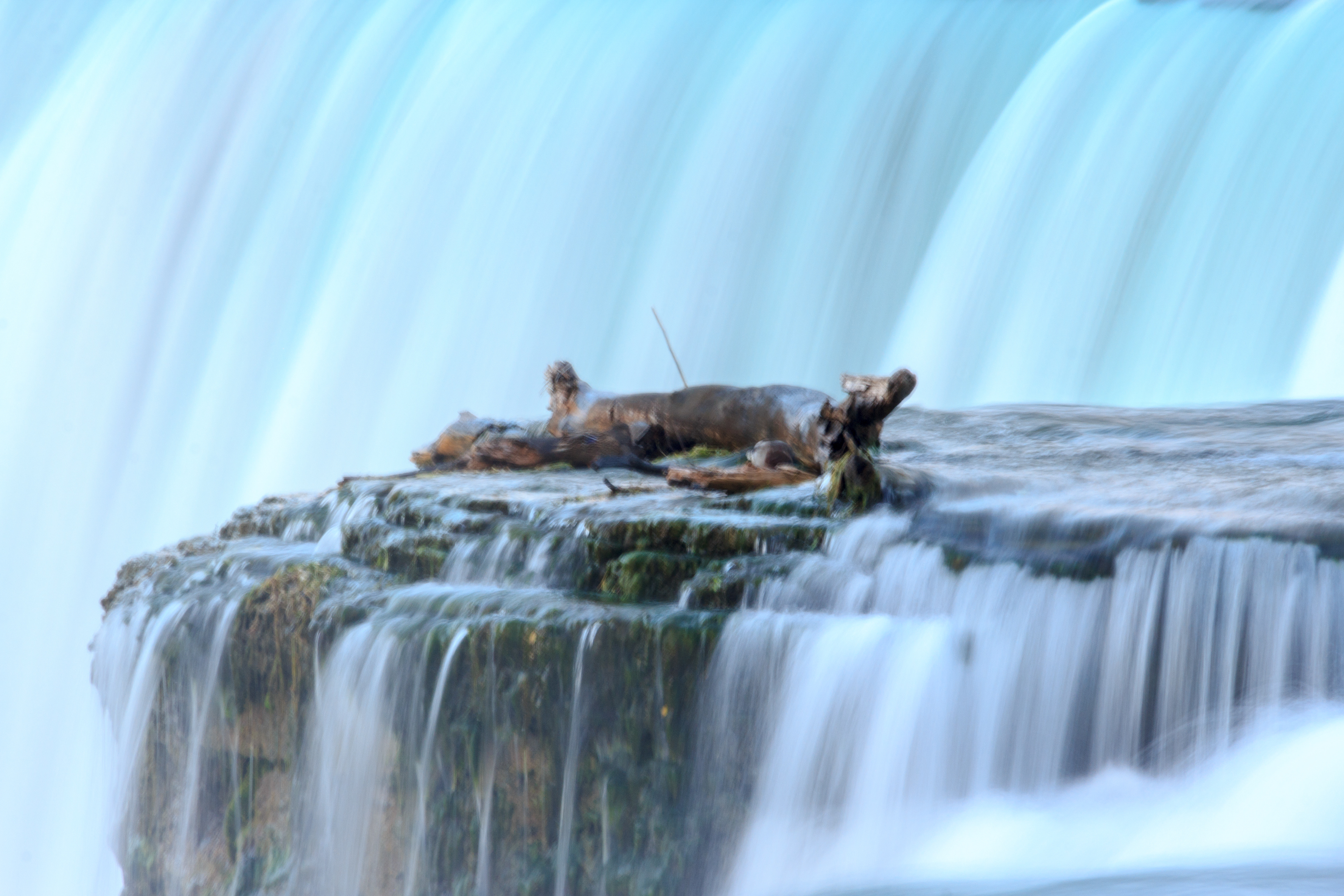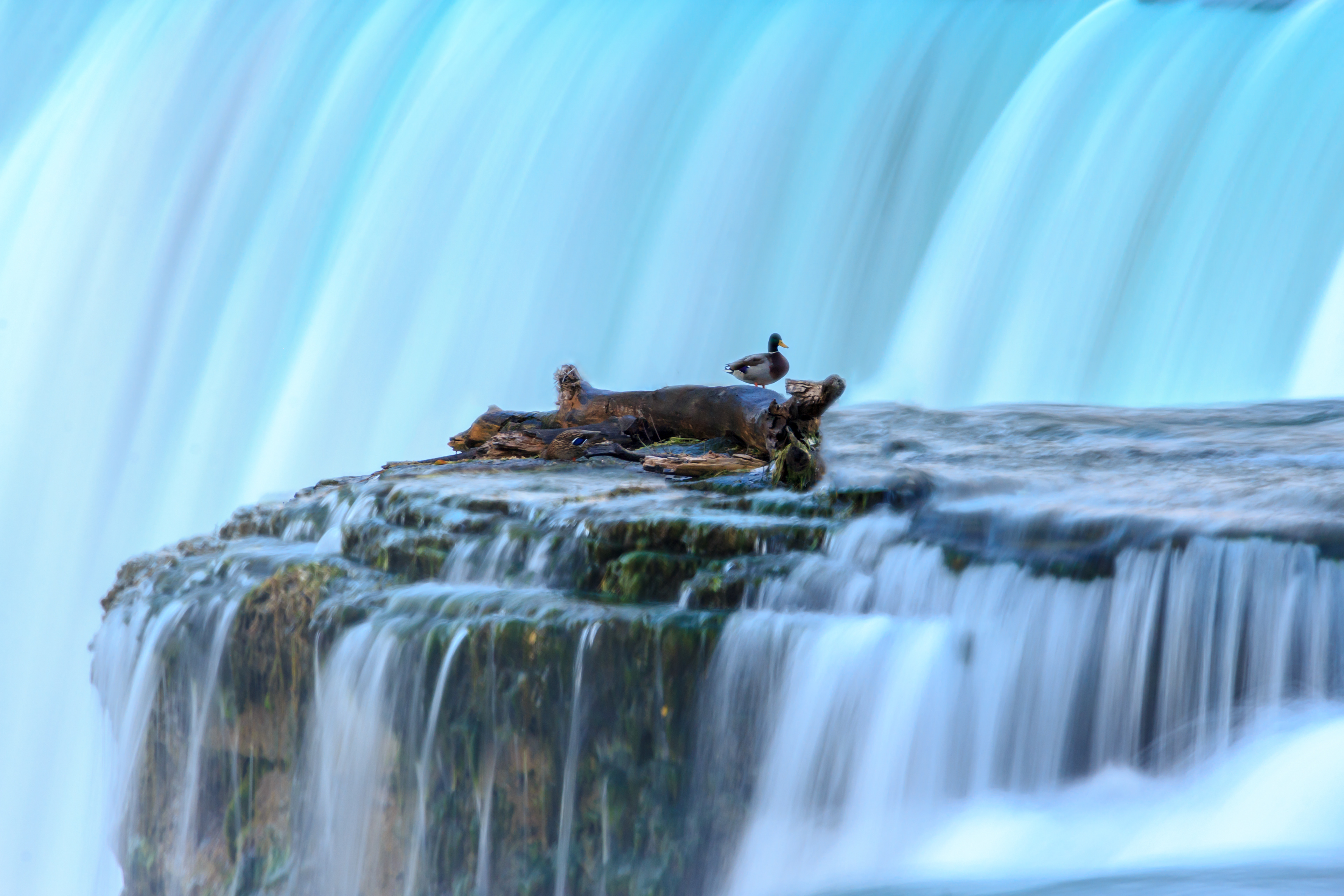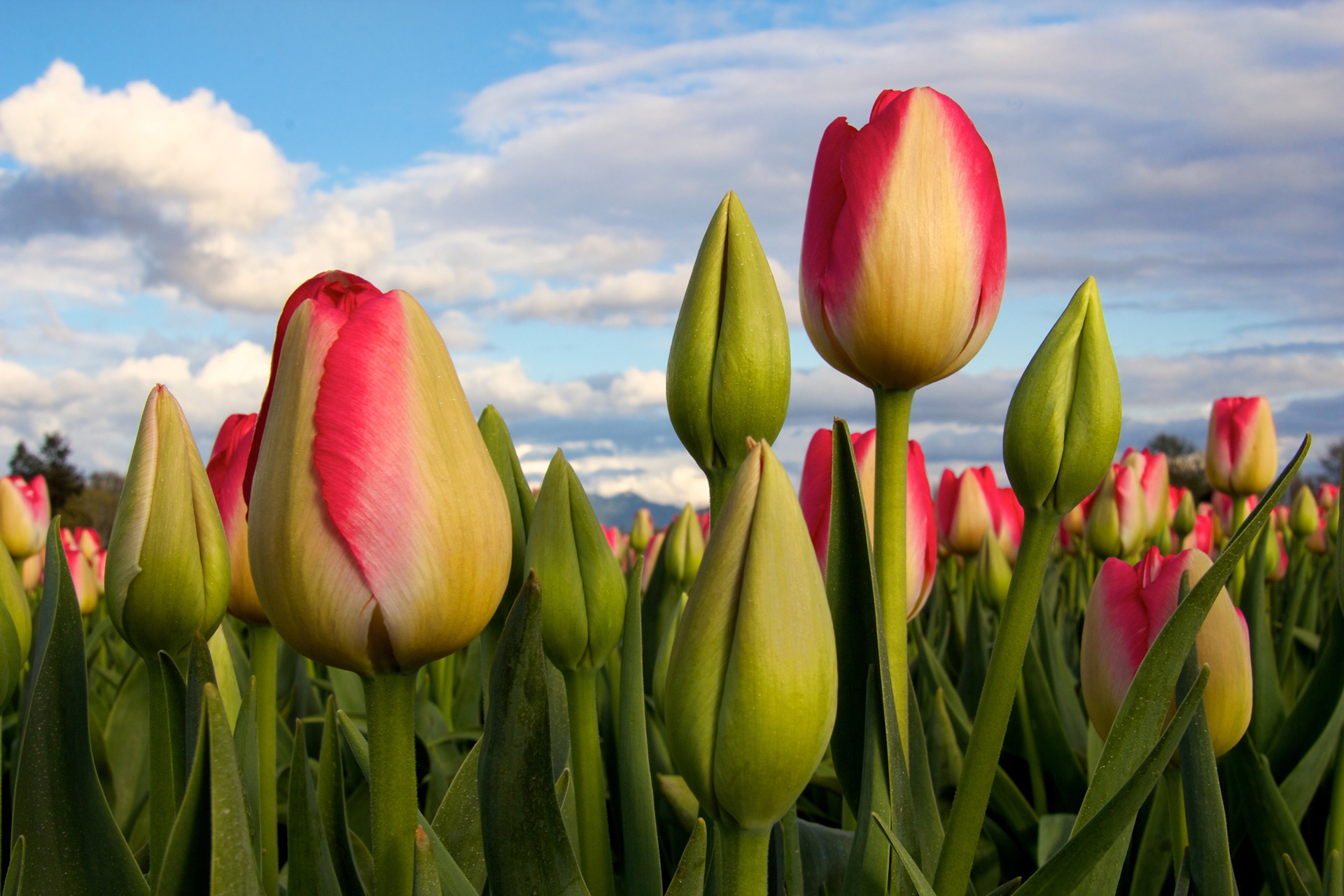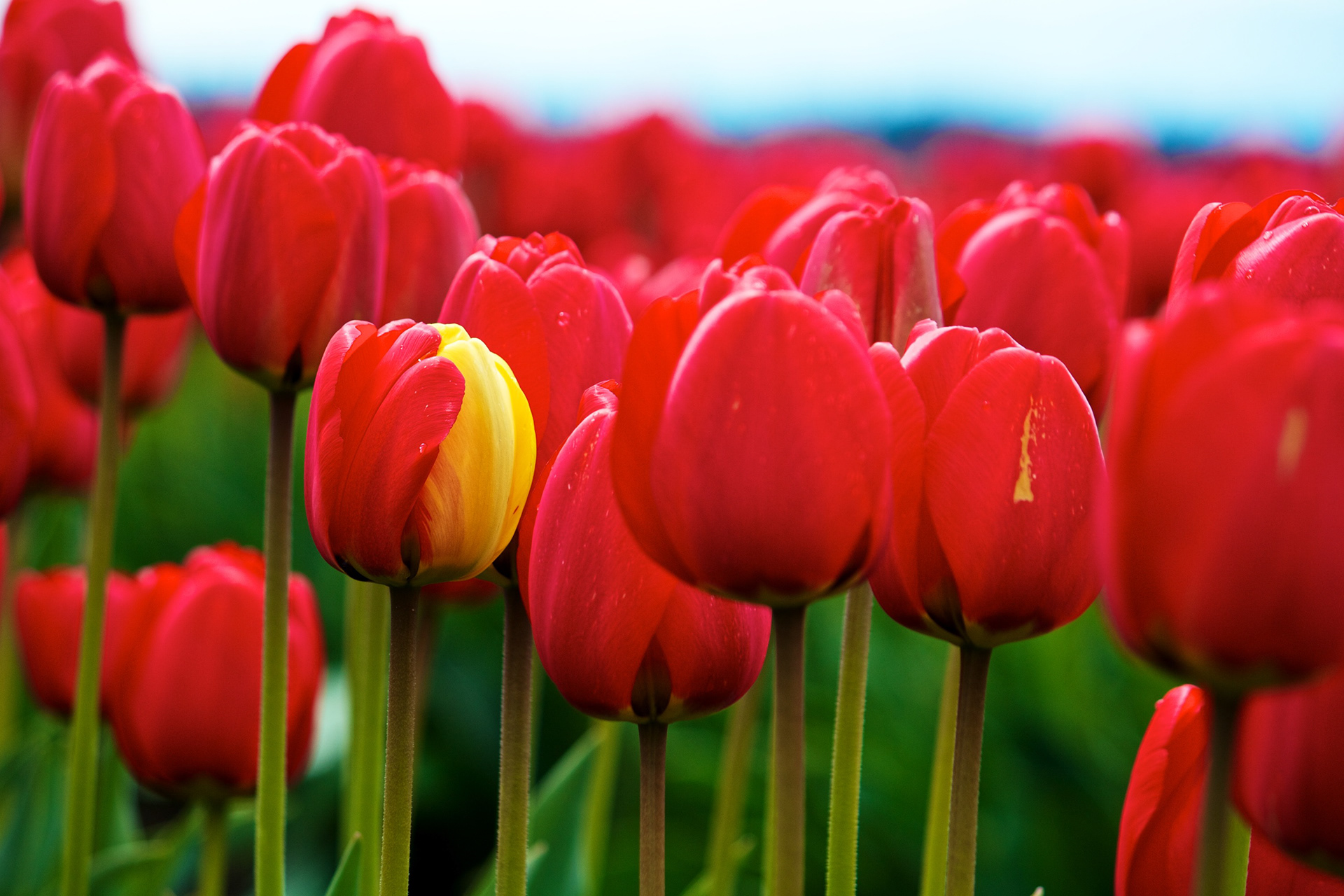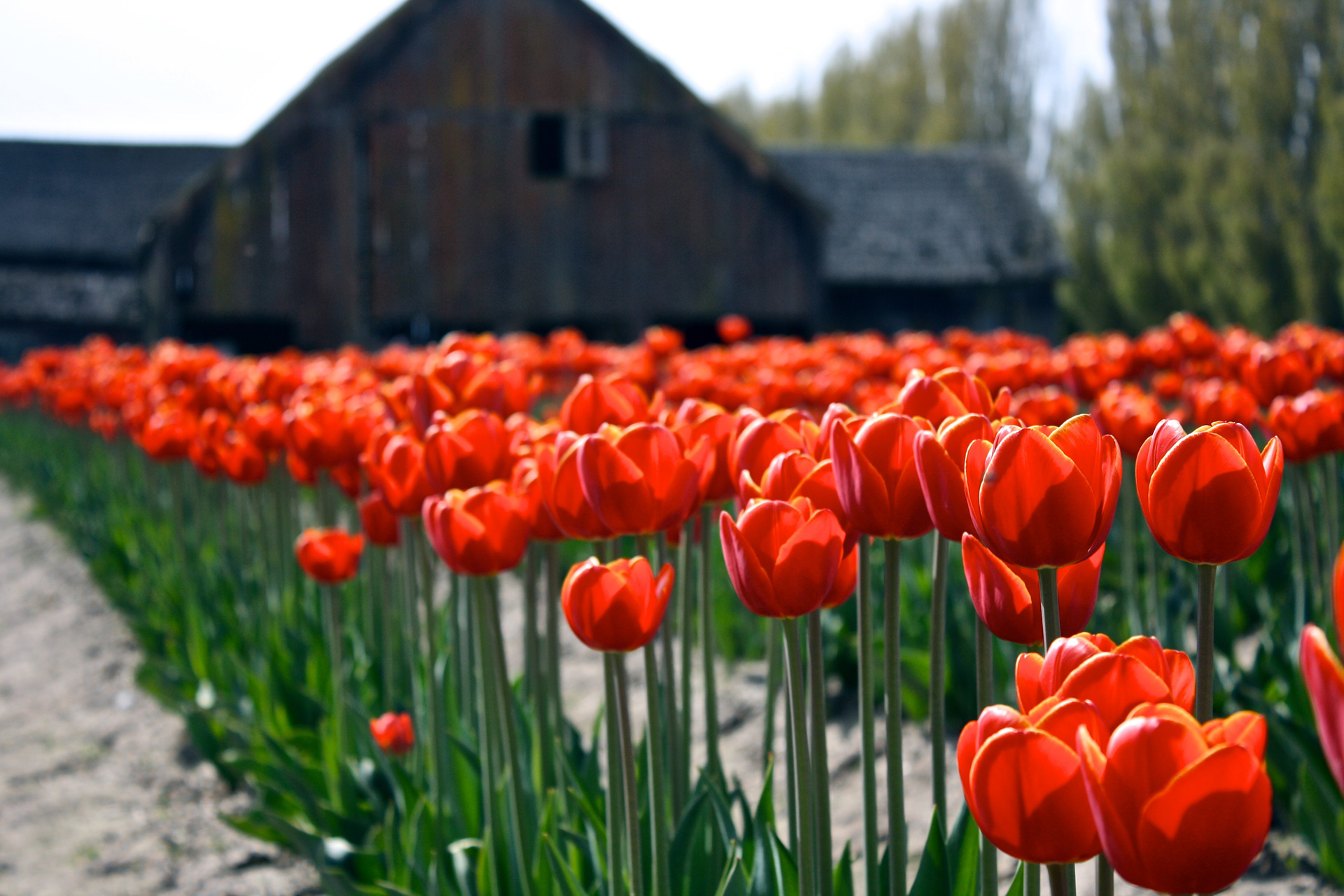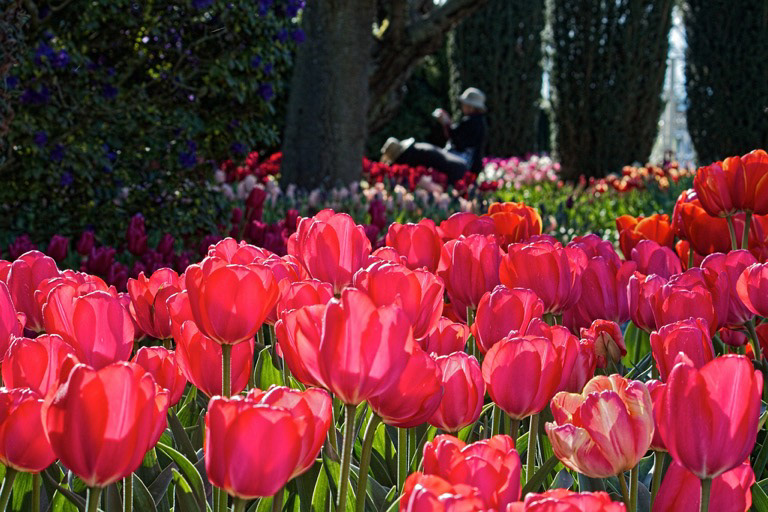 It's Tulip Time! Welcome the photographic possibilities (video)

(March 2016)
I've worked in the Skagit Valley in northwestern Washington state for over ten years. It's an indescribably beautiful spot of the world including lush fields framed by the Cascade and Olympic Mountain ranges, nestled within rivers, bays and estuaries. It is breathtaking throughout the year.
I confess that in my early days as a commuter I didn't look forward to April when the Skagit Valley welcomes hundreds of thousands of visitors to the annual Tulip Festival. If you are simply trying to get from point A to Point B in the valley (perhaps driving to and from your day job) it can be challenging. When I began photographing the tulips I let the frustration slip away and now I'm excited to see the blooms make their way to the surface.
At first I didn't consider myself a "floral photographer", but I quickly realized my perspective was terribly limited. As a photographer the tulips and fields offer infinite photographic and artistic possibilities. The range of color and texture seems endless. The changing time of day and weather creates countless environments and backdrops. The variety of techniques one can explore and experiment with is like being dropped into an upper level art class.
As with all my photography, shooting tulips brings me joy. Working in the fields in the early morning, or as dusk falls; quietly focusing on the flowers, the colors; the artistry of nature; in that moment I enjoy a little peace. Trying to capture the moment and discover a way to uniquely share what I'm seeing and experiencing challenges me as a photographer and  an artist.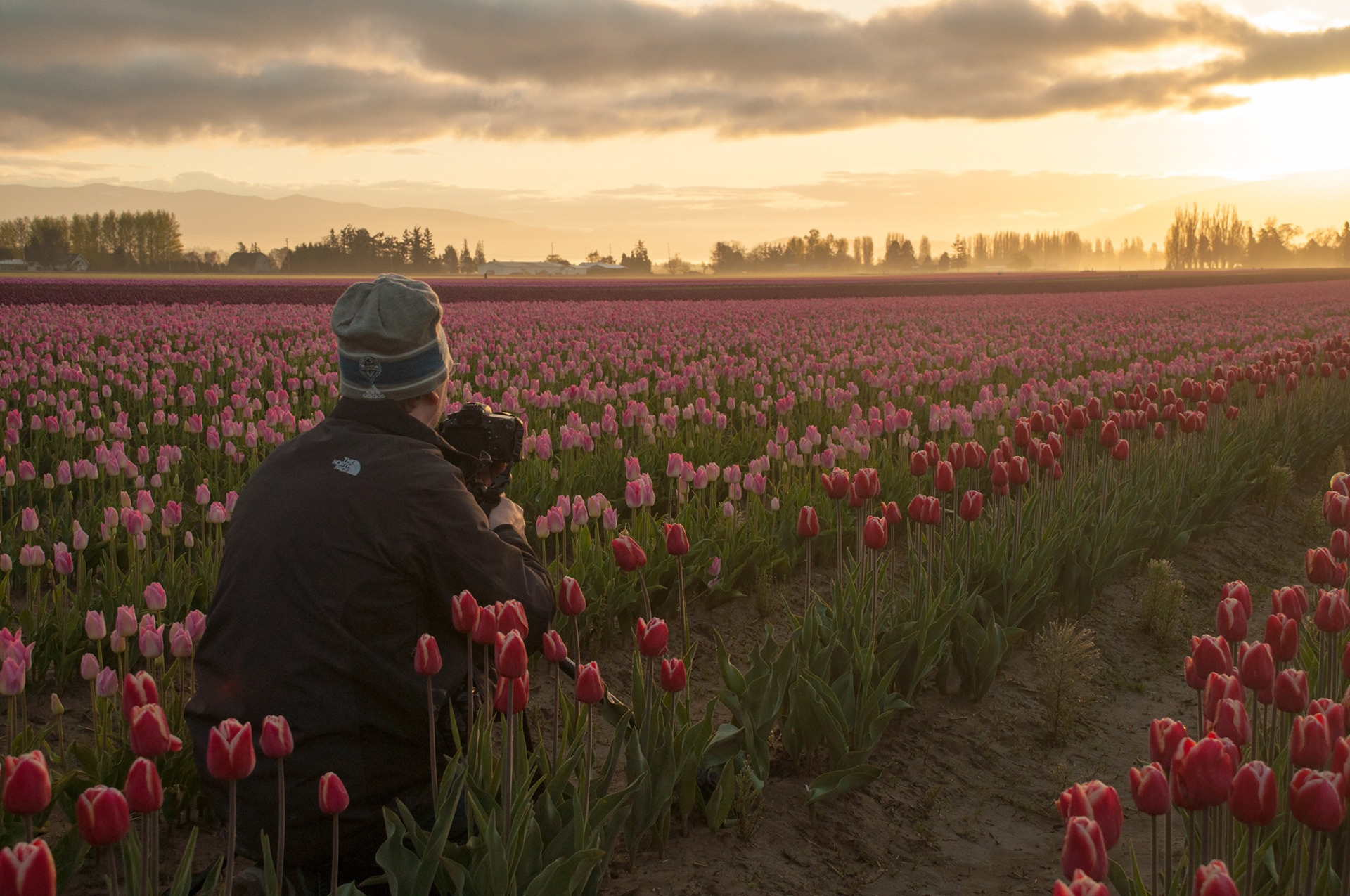 Getting up close with a 600mm lens
(July 2015)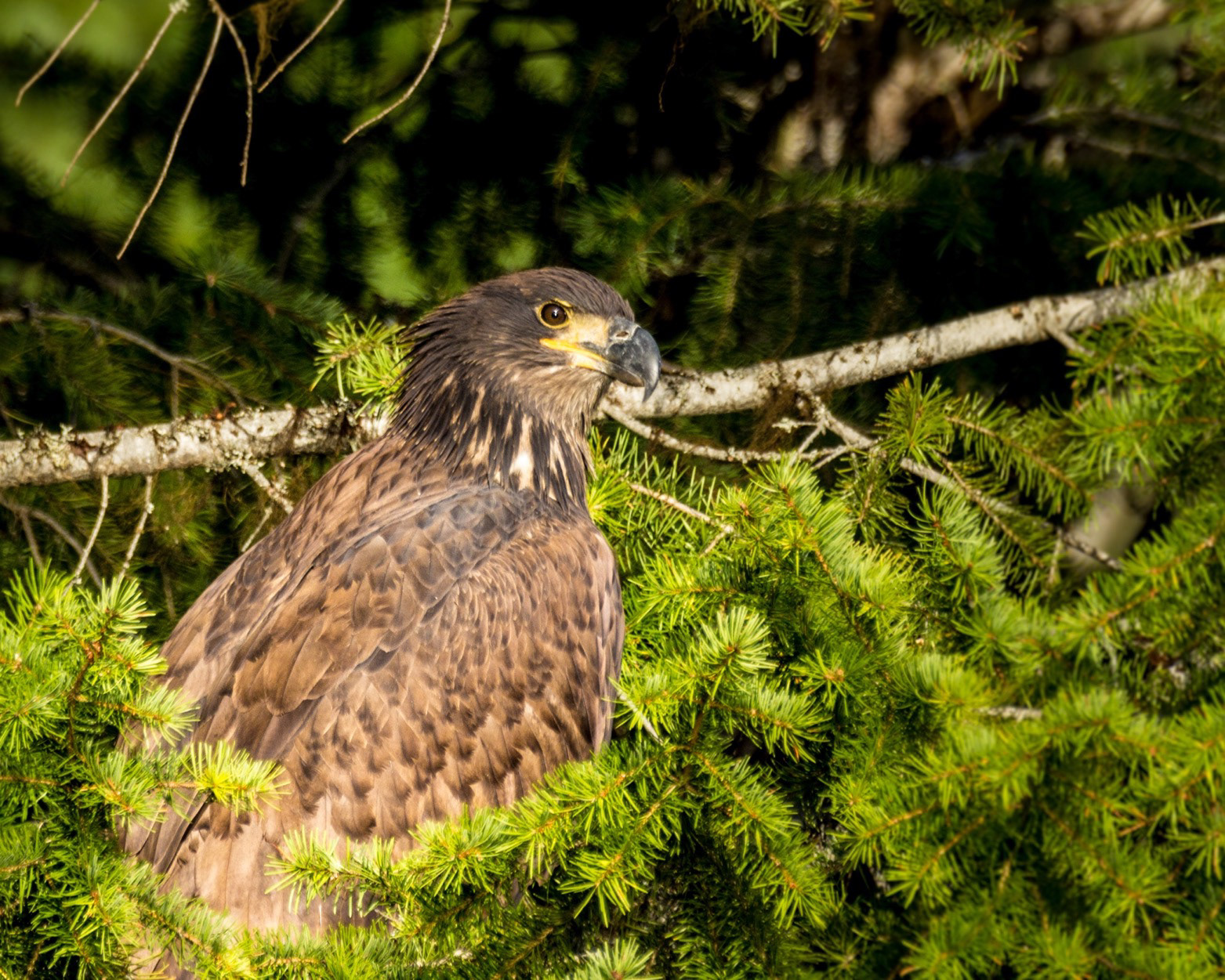 I primarily capture landscapes and my 10-20mm wide-angle lens and 18-250mm super-zoom are indispensable tools in my camera bag. Occasionally while I'm out in the field shooting I have the opportunity to photograph eagles, loons and other wildlife. While my equipment doesn't prevent me from getting good images, I often wish I had a much longer lens.  For this year's vacation at North Twin Lake I decided to focus my efforts on the adult and juvenile bald eagles I knew were at the lake. While I got some fine images last year with my 250mm lens, I decided to expand my range this year and rented a 600mm lens. It was fortunate that 
LensRental.com
was offering 20% off all rentals during the period of my vacation. After looking at my options (there were many), and the prices (they vary widely just like purchases) I decided to rent a Sigma 150-600mm lens. Both of my main lenses are Sigma and I'm very happy with the brand.
The logistics of rental are pretty simple, even in the remote area where I'm staying. You select the lens you want, the number of days you want to keep it and set the shipping address. You pay $25 for round-trip FedEx shipping.  The lens arrived on schedule, very well packaged in a return box with a shipping label. I dropped the lens off at a FedEx location when I got back home, but I could have also scheduled pickup at my location.
My first impression of the lens is that it is heavy. It's a beast. When I first attached it to my camera (a Canon 60D) I immediately scanned around for something to shoot. I quickly realized I would not be shooting this hand-held. It is just too heavy and too difficult to keep steady when fully zoomed to 600mm. The lens includes a tripod mount and I needed to use it to get any useable pictures.
I used the lens for the full 11 days I had it on vacation and found many opportunities to utilize its length. Overall I was very happy using the lens and would love to have it available to me always in the future, but I don't expect that to happen any time soon (the lens costs aprox. $1,100).  Here are some of the images and lessons I learned using the lens. 
1. Optical Zoom is far superior to cropped images.  
This is a pretty obvious lesson, but I was really reminded of the fact using this lens.  Last year I was able to get fairly close to some juvenile eagles and was able to capture images I'm very proud of. Even so, to really draw attention to the eagle I was required to crop the image, losing resolution and rendering some of the image pretty soft.  With the 600mm lens, even though this year's family of eagles didn't let me get as physically close, I was able to get in remarkably "close" with the lens. More significantly, except for occasional post-processing to slightly improve the composition, I didn't need to do any cropping to highlight the subject. The images retained nearly their full resolution and were generally very crisp with good detail. Any softness of the image was more my error then the lens, which leads me to lesson two.
2. It takes a lot of effort to keep the 600mm trained on the subject and achieve good focus.
If you've ever used a large telescope or binoculars to see something very far away, you probably have an idea what I'm getting at here. Imagine the eagle is a hundred yards away on a tree branch. It isn't easy to find a patch about 3' x 3' 100 yards away in the camera's viewfinder.  Moving a big heavy lens, trying to get stable on an often moving subject magnifies the challenge. Once I got locked on the eagle, it was still difficult to prevent any movement that easily introduced softness in the image. 
Speaking of movement...
3. It is difficult to track, lock focus and capture a moving subject.
One of the pictures I have in my head that I dream of reproducing in my camera is an image of a bald eagle soaring toward me. Wings out wide, focus crisp and sharp, the colors and details of each eye, beak, feather and talon on display. Of course the biggest challenge in capturing my dream shot is opportunity. Simply being in the right place at the right time. That may never happen. But when it does, I thought having the extra length of a 600mm lens would help guarantee my result. Please refer to lesson number 2 above; multiply the difficulty factor by about 100x when you add moving the lens and tracking a flying animal. The image below gave me just a taste of what I might be able to do when opportunity and experience combine in that one magic moment.

4. It's less about the equipment and more about talent and experience.
We hear this all the time about photography, but using this lens drove home this one basic truth. I've seen so many stunning images of eagles and wildlife and I've set a personal goal to create similar fantastic photos. Fortune gives me many opportunities to photograph these majestic animals, but I always felt my 250mm limitation held me back. While that is partially true, just getting the longer lens was not enough to guarantee a great result, because it isn't just about the gear. There is a learning curve with this new equipment. There were challenges I haven't experienced before. Even though I have experience capturing birds and know something about their habits and flight, being able to use the equipment well didn't come naturally. I'm confident if I had the lens to use many, many more times, eventually my experience would build to the point I could capture some amazing shots. Like many artistic endeavors it takes talent and practice to be successful. Bigger and better equipment helps, but it does not guarantee results.
I really enjoyed my time with the lens and would rent it again tomorrow. I'm happy with many images the lens allowed me to capture; images I don't think I would have made with only the 250mm lens. While it does remind me of some fundamentals of photography, I welcome the challenge and opportunity to keep learning and growing at my craft.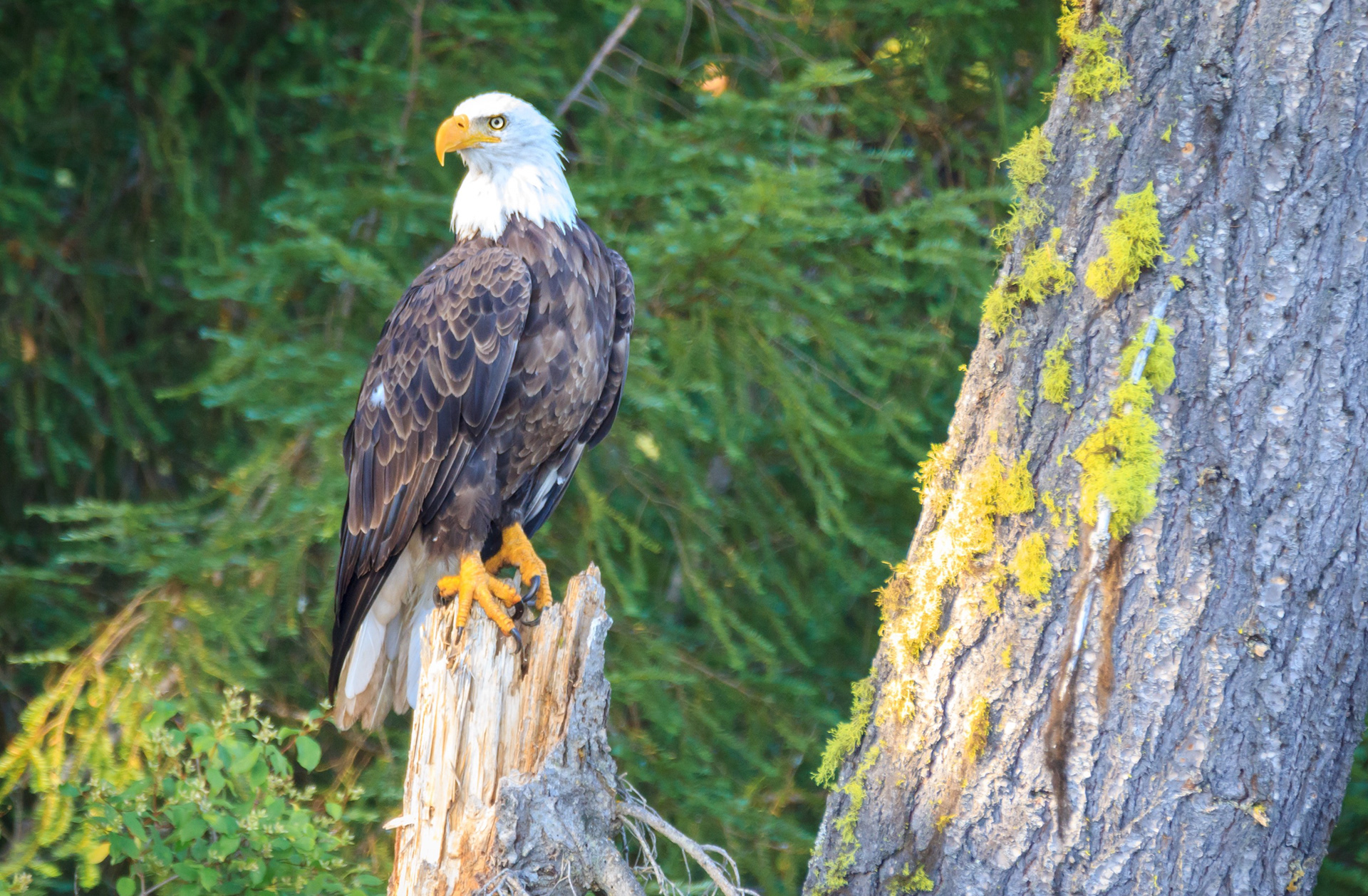 Sharing my summer with a juvenile bald eagle
(Video & still images)(2014)
During the summer of 2014 I enjoyed a great opportunity to observe and document the development of a pair of juvenile Bald Eagles. I wasn't using the best equipment in optimal circumstances, and I'm in the early stages of my experience at nature photography.  In other words, I'm not an eagle expert and these are not the pages of National Geographic. Instead, this is my story of the inspiration and joy I experienced over a period of months visiting my favorite location in the world, North Twin Lake, in northeastern Washington state.  I hope by sharing my experience I will share some of that joy, and perhaps even inspire others not to allow perceived limitations prevent them from exploring their passion.
Bald eagles are apparently early breeders: nest building or reinforcing is often completed by mid-February, egg laying is often late February (sometimes during deep snow in the North), and incubation is usually mid-March and early May. Eggs hatch from mid April to early May, and the young fledge late June to early July.
I first noticed the Twin Lakes eaglets during our memorial weekend visit at the end of May.  I saw an adult bald eagle fly back to a nest that was a long distance from my location on the lake, but not so far that I couldn't see the adult tending to the nest (presumably feeding hatched eaglets). On my return to the lake during the July 4 holiday I saw a pair of eaglets standing on the edge of the nest.  They never left the nest and I assume they were only days away from taking their first flight. 

My true joy came during my visit to the lakes in early August.  I always cruise the backside of North Twin Lake in the early morning when the lake is quiet and the wildlife is more active. On my very first day I was surprised to find one of the juvenile bald eagles perched on a fallen tree at the edge of the lake.  I was lucky enough to maneuver my boat near the eagle's location without disturbing it. I was fortunate that the eagle was close enough that I could capture very acceptable images and video using my 250mm lens.  I was shooting from the boat, often hand-held, so unfortunately there was always some movement. I returned to this general location over the next several days and always found the eagle in this area early in the morning. Over the days I had many opportunities to watch the eagle in its habitat, learn some of its habits, and capture a few nice still images and video.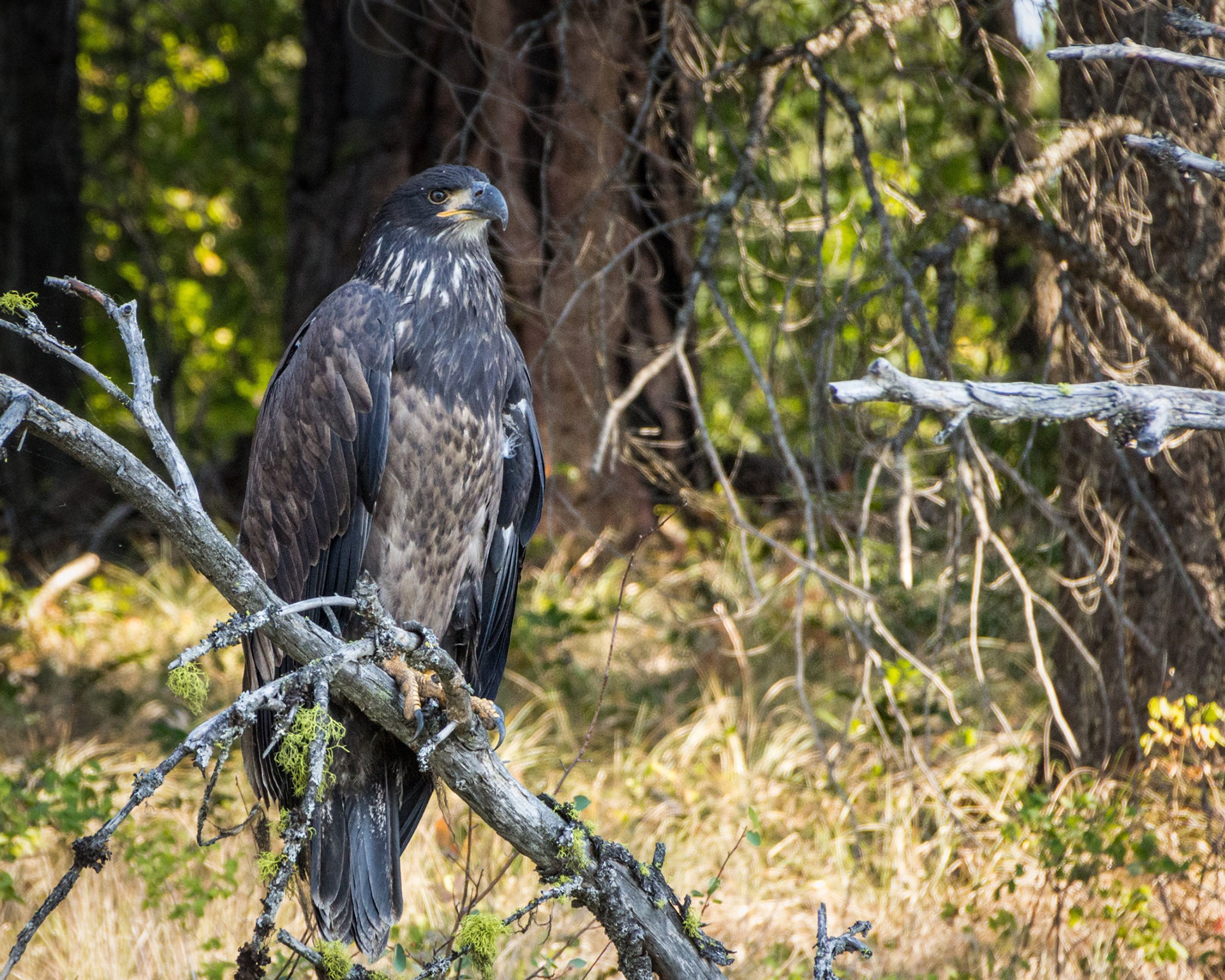 One of the things I noticed was that the young eagle often stretched its wings and moved about the log more so then I've seen from adult eagles. I can only thank the eagle for the many great poses offered to me over the days.
​​​​​​​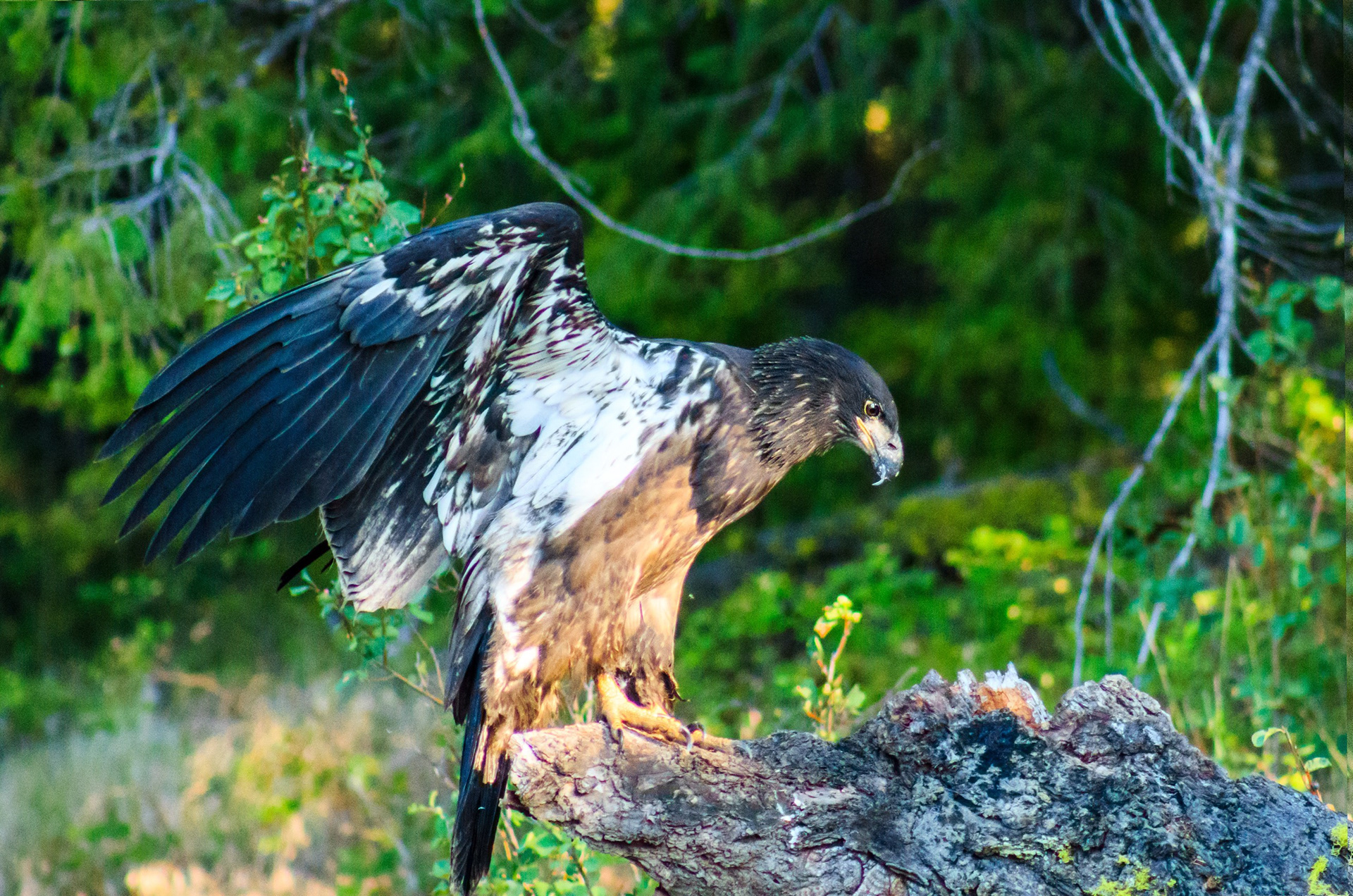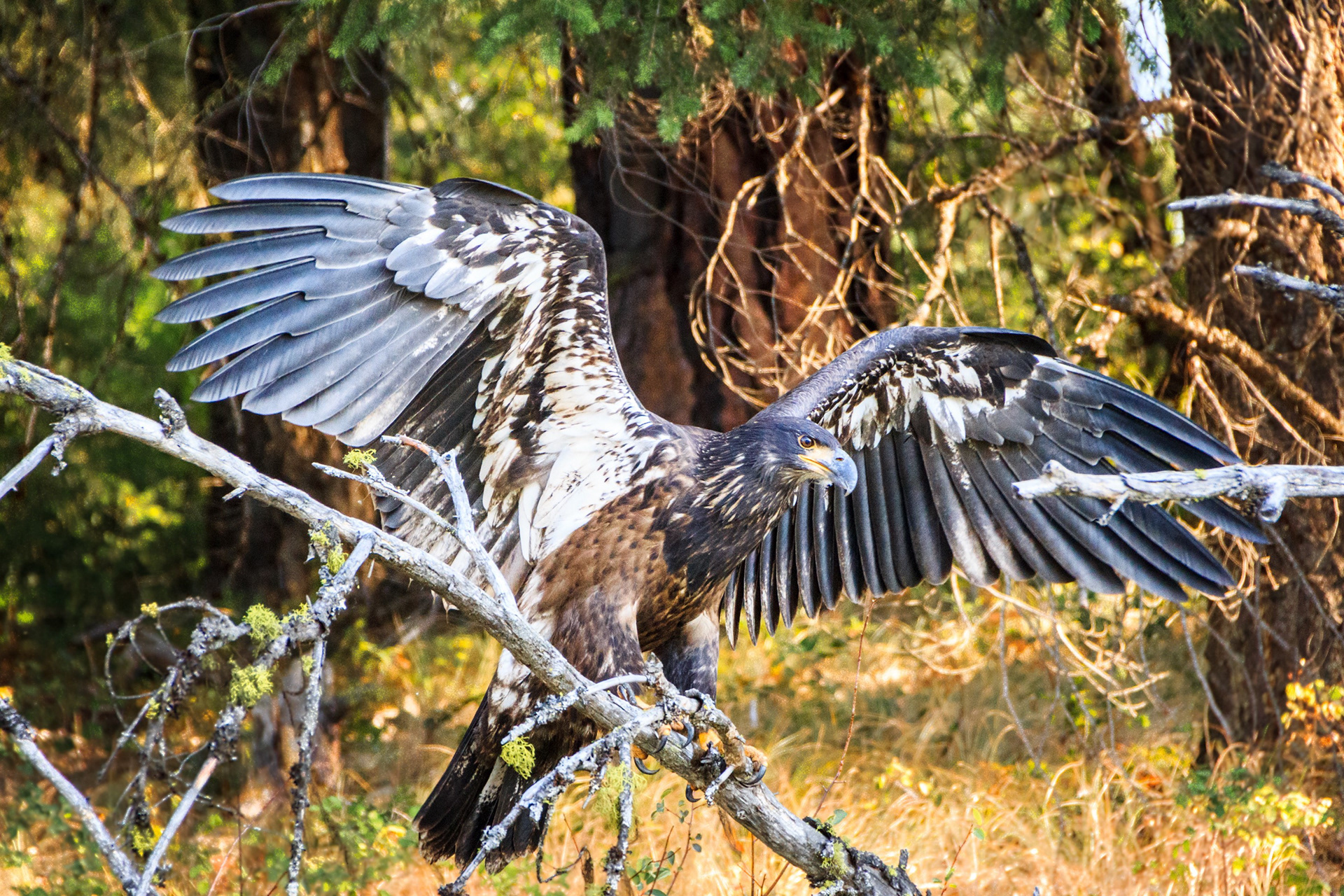 As a cap to the week of observation I edited together video clips of the eagle, including audio of its distinctive call, and footage of its graceful flight from the branches of a tree across the expanse of the lake.


See A Shot, Take a Shot
(May 2014)
See a shot. Take the shot. 
It seems like a simple enough message, but too often as photographers we forget. We forget that part of making memorable photographs is capturing a moment and preserving it within the frame. We forget that moments are fleeting. We sometimes act like we get endless chances to capture the same image. If I don't stop to photograph this sunset I'll get another chance the next time. Of course, every sunset is not the same, but it's so easy to wait for the right time; a better time; a more convenient time to be a photographer. 
See a shot. Take the shot.
I recently had two experiences that drove this message home for me. One somewhat comical, the other somewhat somber.
I drive the same road home every day. Along this road a large tree grows in a neighbor's front yard. One day, as often happens when I'm out, the tree caught my photographer's eye.  I noticed the large branches stretching outward, and a wooden swing hung from a lower branch.  I instantly composed a shot in my head and thought about processing it in black and white or antiquating it to evoke memories of simpler times. In all modesty, it was a great image. In my head. But the tree was in a private yard and I'm loathe to trespass. Perhaps, I thought, someday I'll stop to introduce myself to the owner and get permission to photograph her awesome tree.
"Someday" didn't arrive, but driving by a few weeks later I saw the tree again and my heart sank.  The tree had been trimmed. The limb holding the swing was gone, and so was the swing. I eventually asked permission to shoot the tree, but it wasn't the same. The great image I envisioned would just have to stay in my head.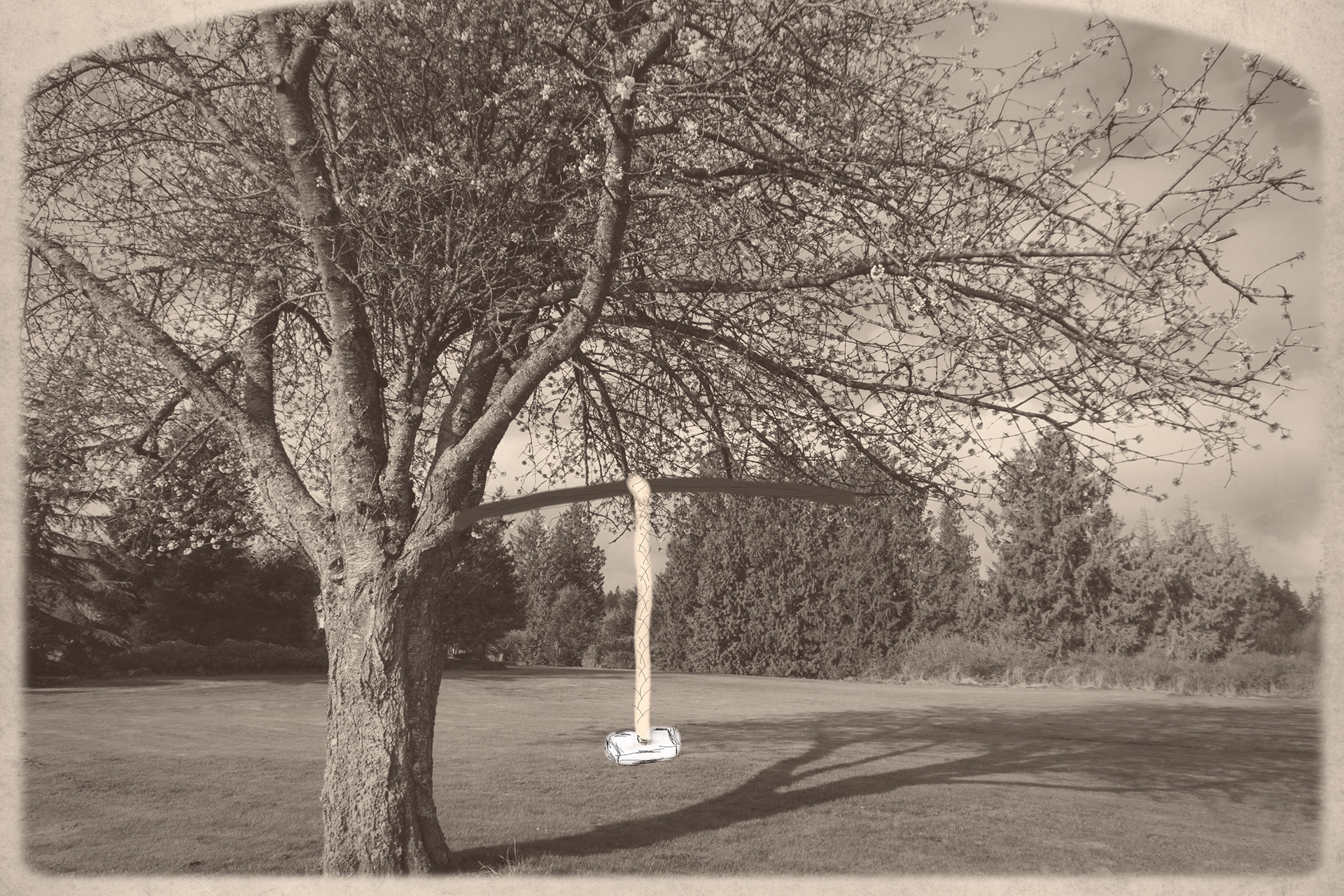 Once a month I work near the small town of Darrington, Washington. To get there I travel along the picturesque Highway 530.  The road is nestled in the Upper Stillaguamish River valley at the foothills of the Cascade Mountain Range. During my hour drive I witness indescribable beauty. I always have my camera in the car, but I'm often in a rush to make an appointment or get home, and I choose to keep driving.  March 21, 2014 was another beautiful day.  The hills were recently dusted with snow and looked as if a giant had sprinkled them with powdered sugar.  A mist hung low, near tree level, but the sun was warm and brightly glistened off the North Fork of the Stillaquamish River.   Again, my eye saw a photograph, but I was on a deadline and I kept driving. The image nagged at me though, and about a mile up the road I stopped, turned around and returned to preserve the scene.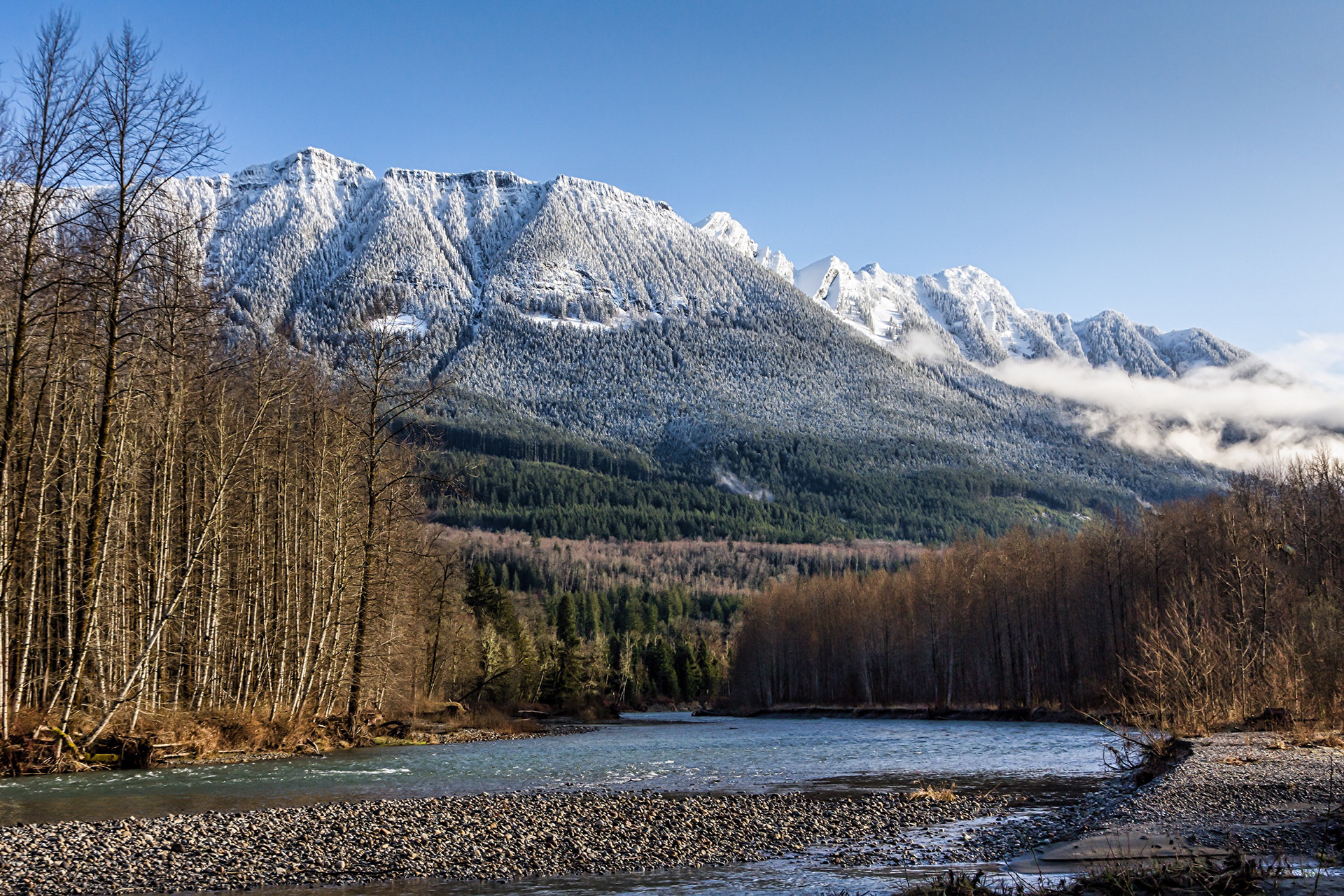 On March 22, 2014 - less then 24 hours after I stopped to take this picture - a massive and deadly landslide choked the river about a mile down stream from this location.  As a result, this part of the river flooded, the road I was on was buried in mud and over 40 lives were lost. This was a beautiful scene and I'm happy I captured it. Today, the photo holds a special place in my collection; reminding me how quickly and dramatically life can change and how fragile our world really is.
See a shot. Take the shot.
Greeting the Sun in the Tulip Fields
(April 2014)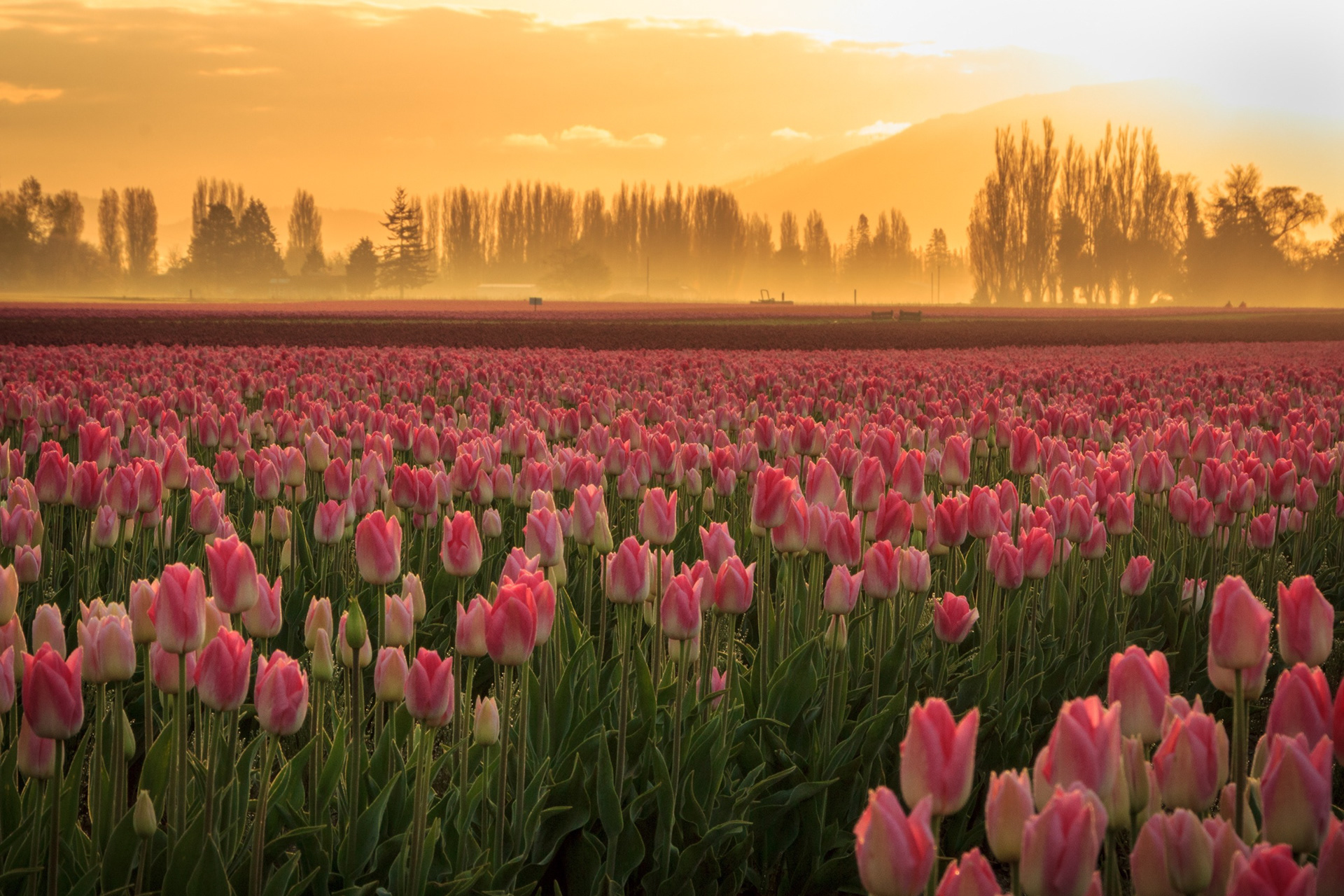 Concentrating most of my photography on landscapes, I'm no stranger to an early-morning photo shoot. Still, getting up to greet a sunrise takes a certain amount of sacrifice I seldom muster. Even working in Skagit County, where I've captured the beauty of the tulip fields during the annual festival for years, I've never coaxed myself out of bed early enough to see the blooms at sunrise. Until this year.
I was rewarded for my loss of sleep with a magnificent sunrise that was a pleasure to witness with or without a camera. I was even more gratified when I saw the images I brought home from the trip.  I was so happy with the pictures I drank an extra cup of coffee a couple days later and returned to experience another dawn in the fields.​​​​​​​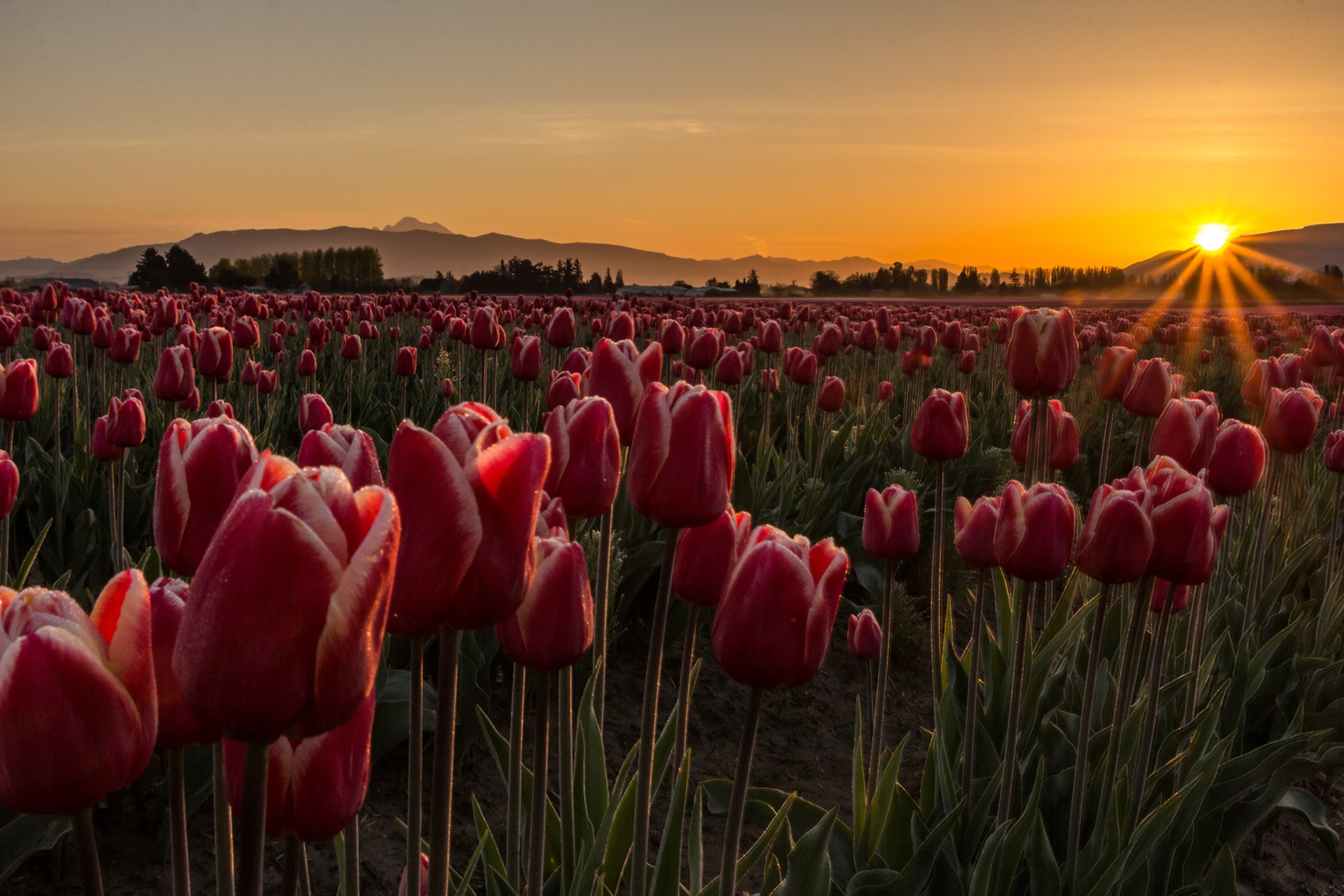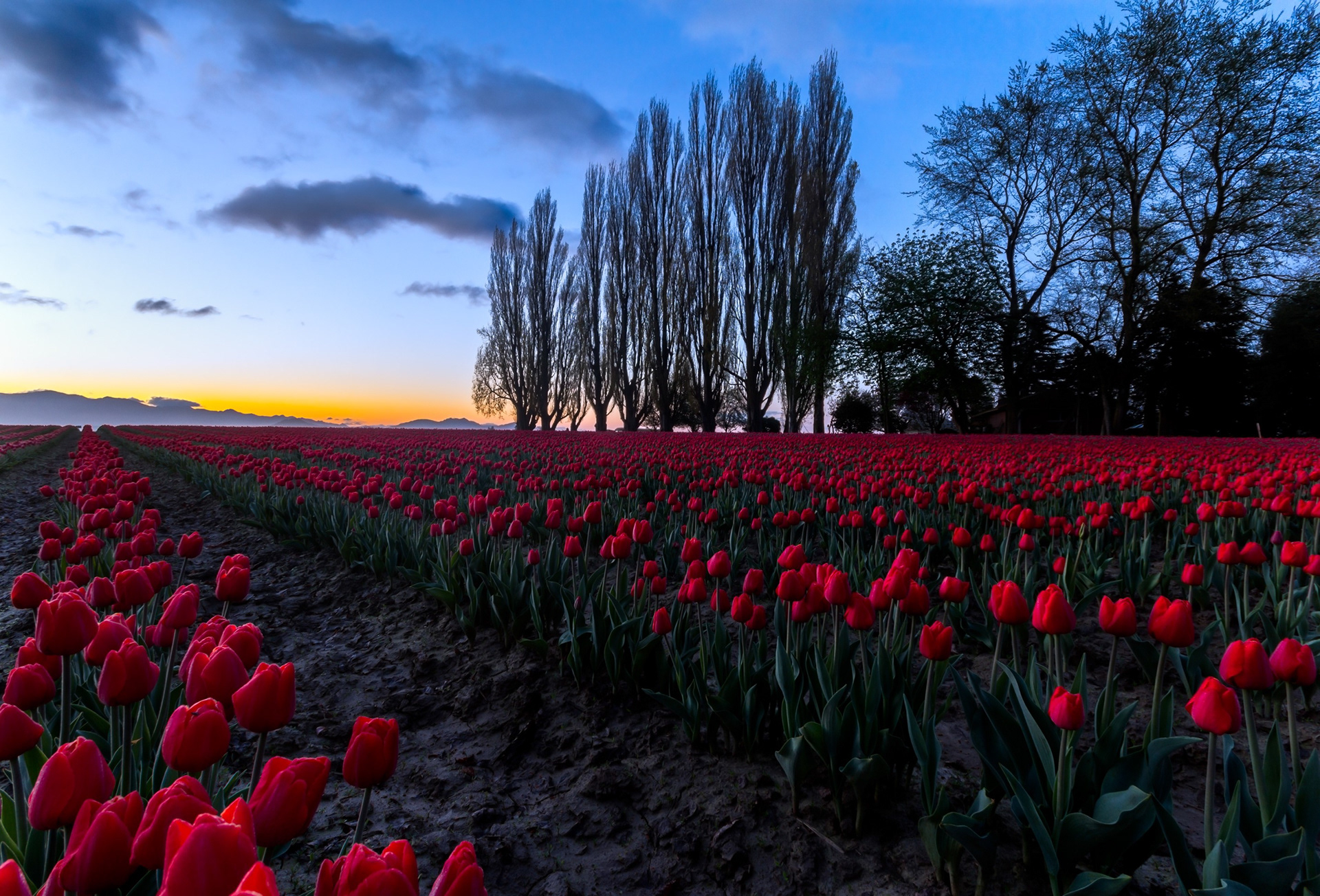 Shooting Tulips During the Busy Festival (shooting busy tourist scenes)
It's that time of year again - it's Tulip Time - and I wanted to reshare an earlier post of mine offering some tips and tricks to getting good photos of this commonly shoot scene.
It takes a special photograph of a flower to be considered unique or original.  Still, their color and splendor are a siren song drawing photographers to capture their beauty.  Where I live this phenomenon is magnified during the Skagit Valley Tulip Festival.  The annual display of color draws thousands of visitors from around the world and it seems each of them is armed with a camera to snap images to take home and share.  Stroll through any gift shop or local art show and you'll think there isn't a photo of a tulip that hasn't been taken.  So should a serious photographer just keep the gear packed up and avoid the tulips all together?
Clearly I think the answer is "no."  For me, the draw to photographing tulips is easy.  I work in the heart of tulip country. Since, I drive by the fields on a daily basis, taking time to enjoy the tulip fields is easy.  Being a photographer I can't pass this opportunity to improve my art.  While it's sometimes hard to find inspiration for photography, during the tulip festival it's a piece of cake to find interesting and willing subjects.  
Still, the challenge remains - how do you photograph something that has been shot and will continue to be shot millions of times? How do you make the image interesting to shoot and to view?  My answer is not profound, but using some of the lessons I've picked up along the way allows me to capture images I can be proud of.  These tips worked in the tulip fields and can work in similarly popular photo opportunities and tourist stops that cry out for you to "take a picture."
Change Your Point of View
On of the obvious ways of trying to capture a unique and interesting image of a well photographed subject is to change your perspective.  The temptation at the tulip fields is to shoot everything wide to capture the blankets of color.  While this perspective can capture beautiful and interesting images, sometimes getting low, getting close, or changing your camera angle will offer a new image.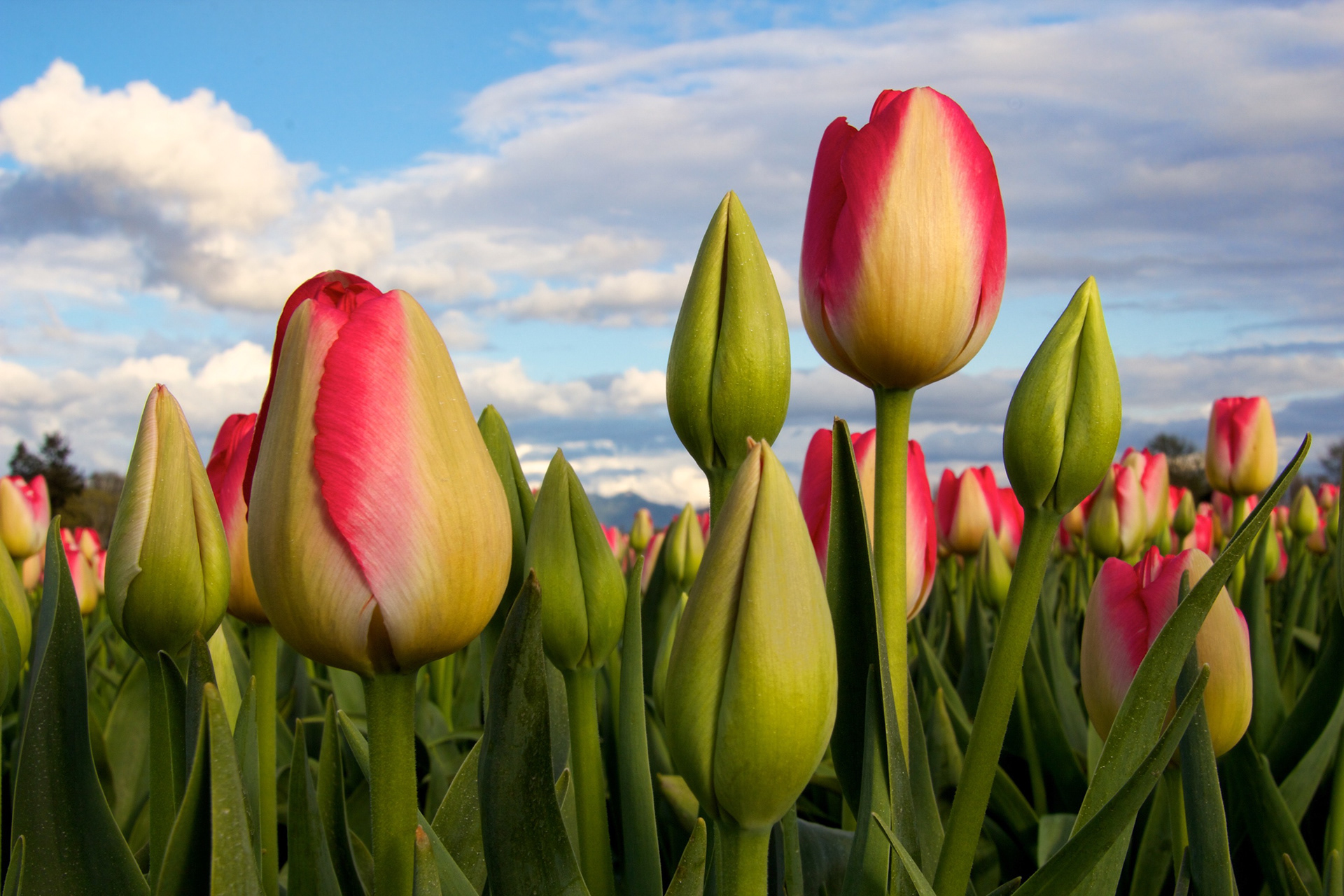 Open Your Eyes and Look Around
When you approach a vast landscape, or in this case, fields of colorful flowers, it's easy be be swept up by the grandeur of the scene and wanting to capture it all.  It's hard to argue with the beauty presented by acres of tulips stretching before you in large swaths of vibrant color, and you shouldn't avoid getting that big picture.  But you should also take a moment to focus on the little things. The details right in front of you; or at your feet; or behind you. There are some really interesting images to capture when you take a moment to see the trees through the forest, to borrow from an old saying.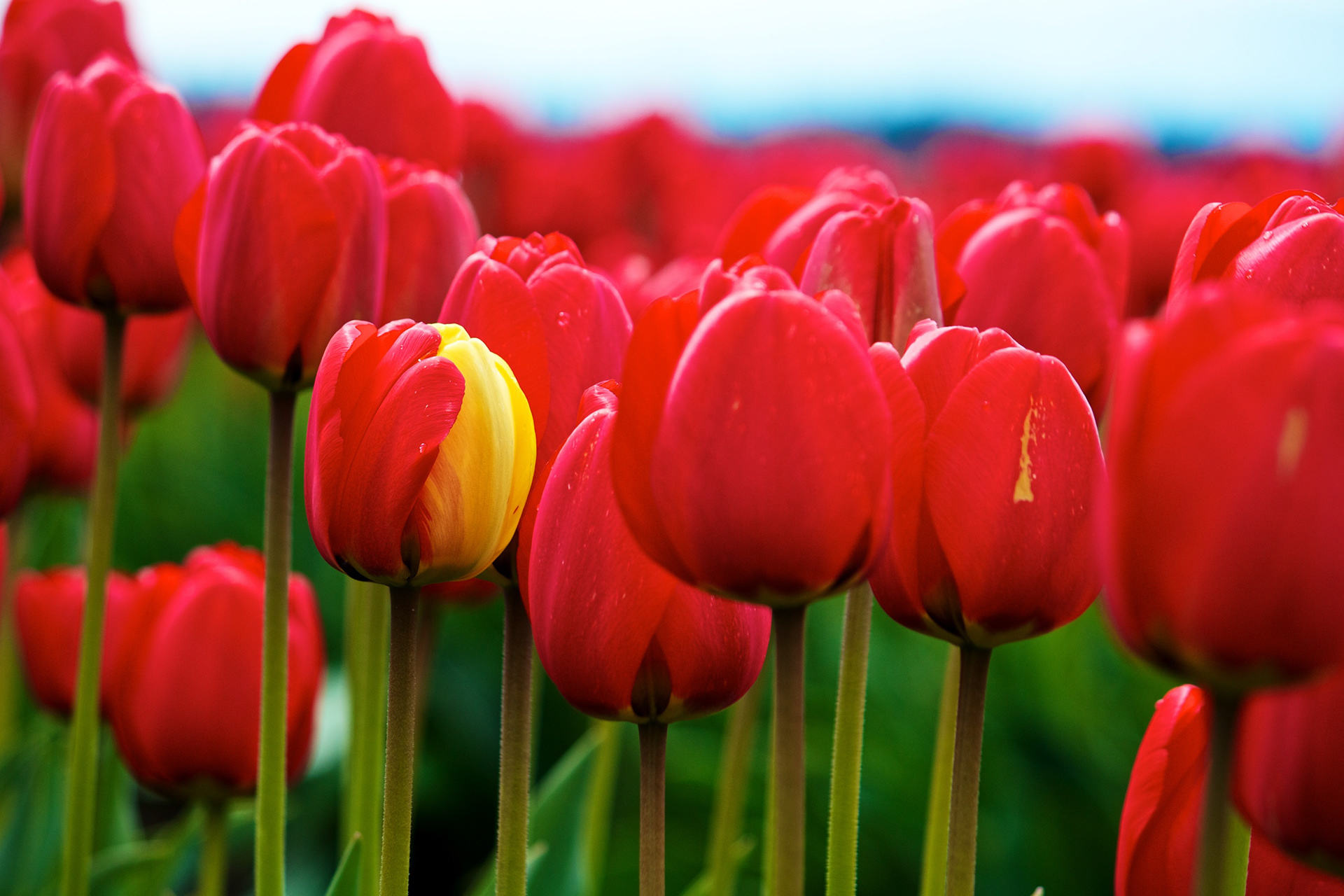 Be Aware of the Background
Something that can really diminish an image captured at the tulip fields is the photographer's lack of attention to the far background.  A photo of the vast and colorful fields stretching to the horizon can offer an outstanding image.  Unfortunately, a beautiful picture of a field of flowers can quickly turn into just another snap shot when the background is littered with parked cars, campers and tourists.  When the flowers and colors are perfectly framed and the exposure is set; before you press the shutter, take one more look to the horizon.  What will be in the background?  Will your image terminate on that ugly 1983 brown and white RV? Chances are if you take a look around and adjust your position, you can fill the background with bucolic fields, a barn, a tree or the Cascade Mountains. Even if the distant background falls out of focus, knowing what will appear in the frame will dramatically alter the quality of the image.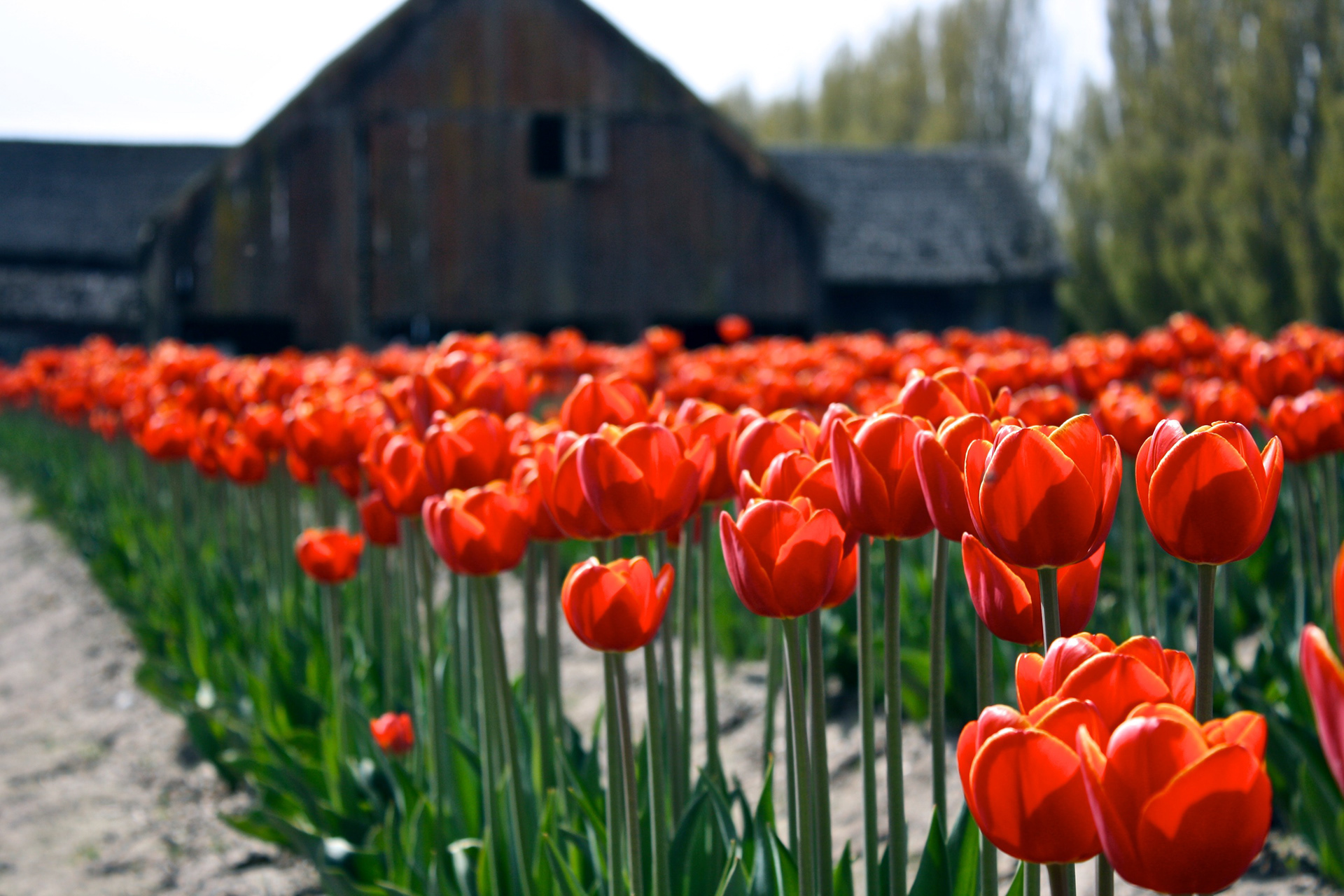 Incorporate the Visitors to the Fields
It is a frustrating truth photography the tulip festival that there's no getting around the large number of visitors that are enjoying the flower displays.  Obviously, this is an issue you can encounter at any high traffic tourist location.  It's unavoidable that people will constantly walk in and out of frame.  The easiest solution is to bring a great big dose of patience with you.  Use a tripod, set up the shot, and wait.  While there's no guarantee you'll ever get a clear shot, waiting for that shot instead of cluttering the image with people will be worth it.  But sometimes the image is never clear of people and you need to be inventive.  In that case,  consider incorporating the people in your composition.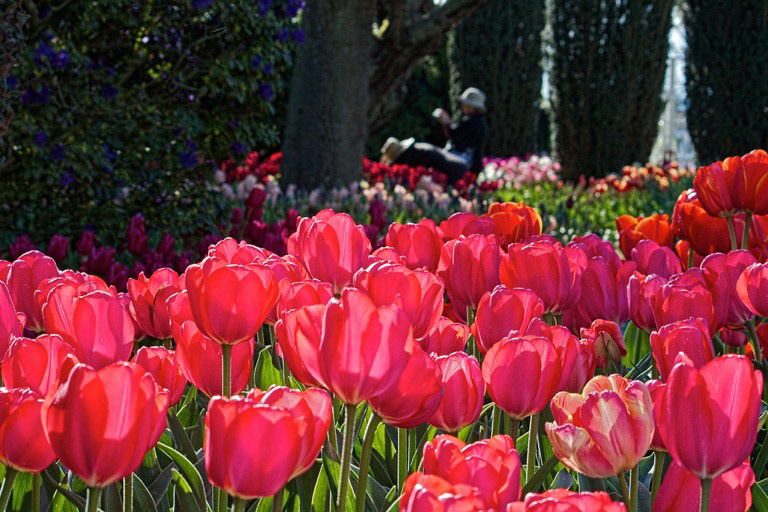 Arrive before the crowds (and before the good weather)
It's natural to go the fields when the sun is shining and warm and the fields have opened to visitors.  There's a chance, however, if you visit the fields before the crowds arrive, and before the sun bathes the petals with warmth, you might capture something different.  In the early morning hours the fields are often blanketed with mist offering an eerie atmosphere.  The blooms are closed like a fist and coated in dew. You won't get the "classic" field of color, but you just might get something unique.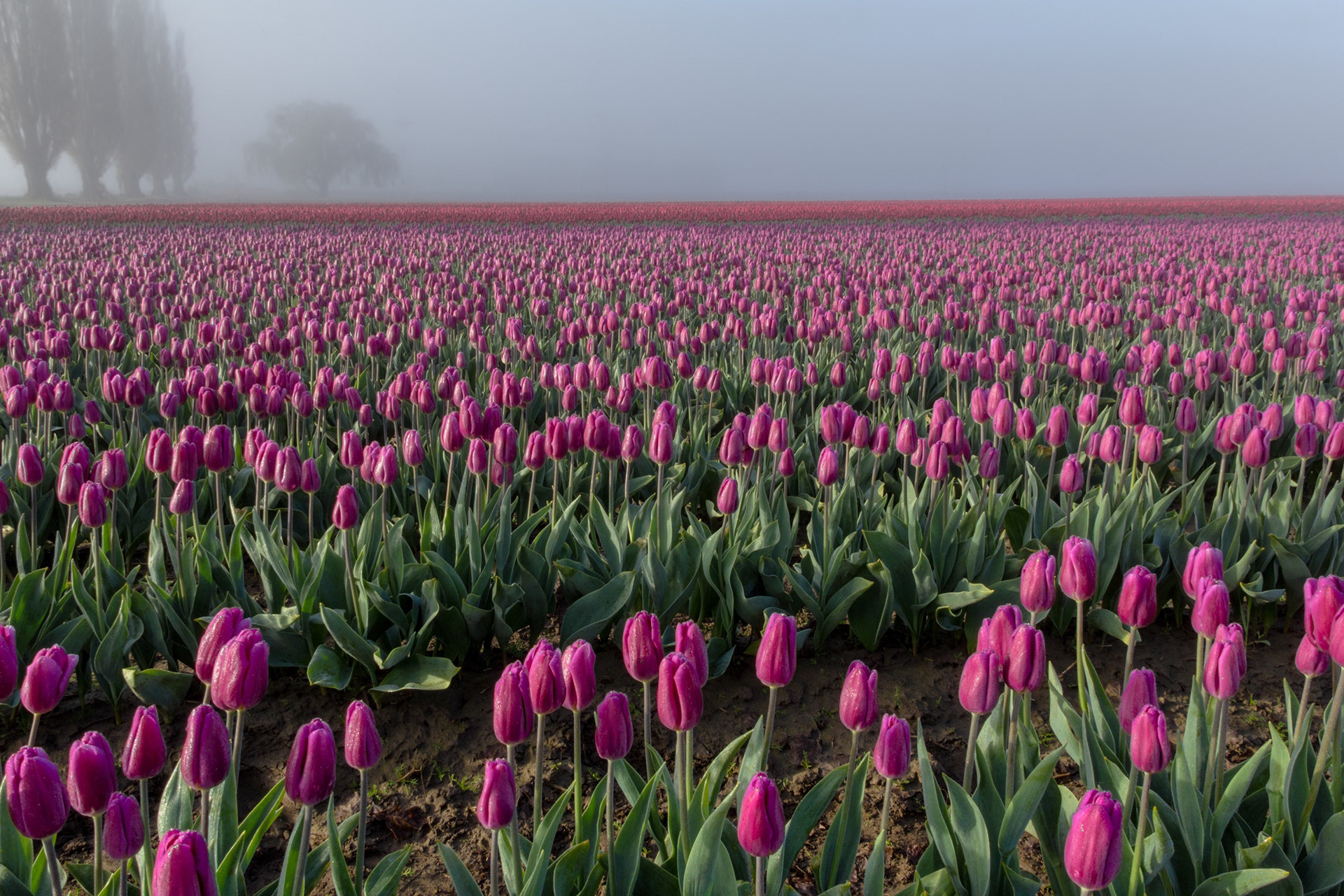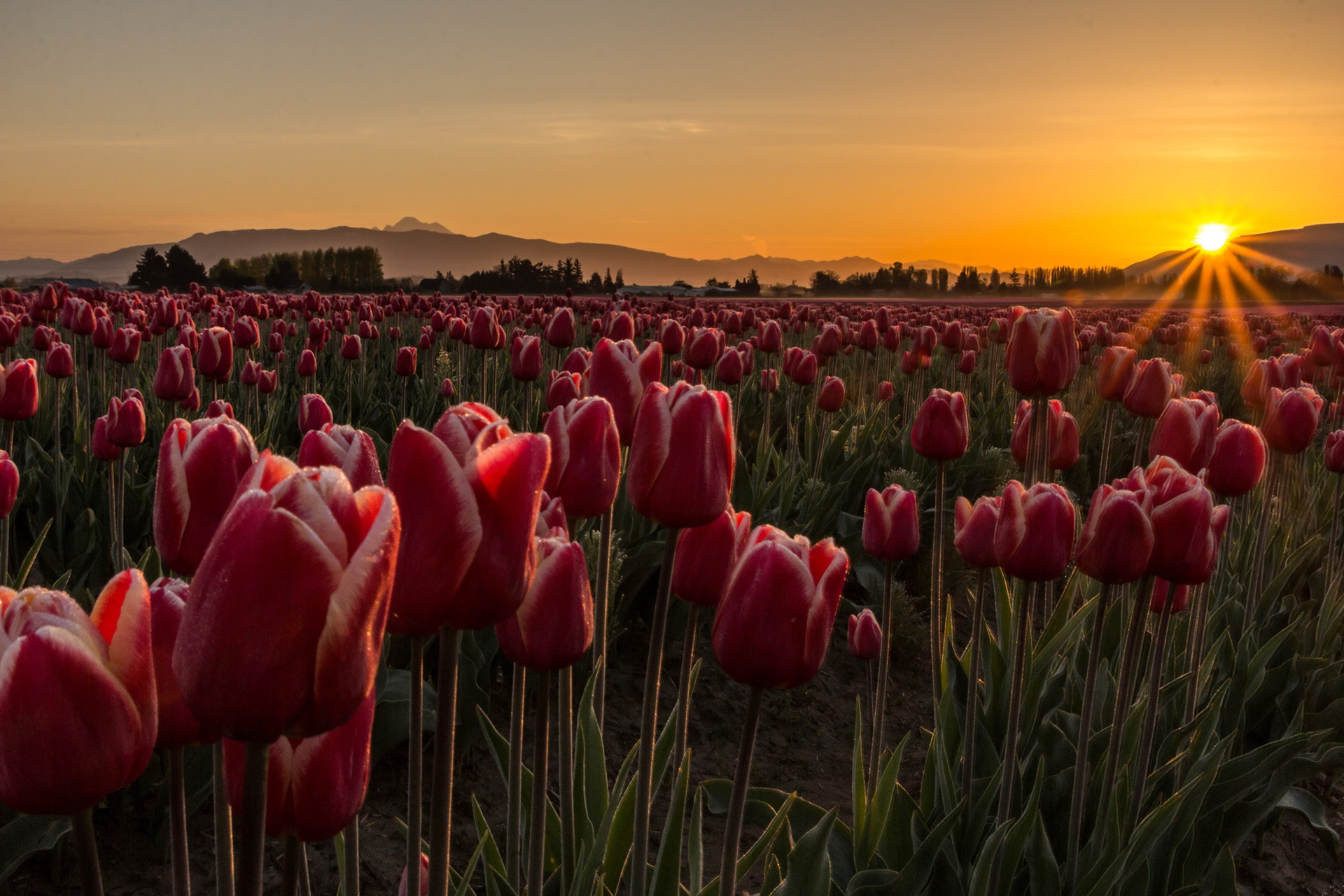 I'm not going to concentrate my photography on flowers, but I'm not going to ignore the opportunity to practice my art and capture the amazing beauty that's right in my backyard.  I may not capture an earth shaking, never-before-seen tulip image, but I will make an extra effort to help my photos tell a story. If I do that I've taken a step beyond catching another snap shot and getting closer to art.


A pair of Flycatchers built a nest outside our home in northeastern Washington state.  The nest is wedged in the crevice between a wall and a porch lamp attached to the house.  The nest is barely the size of a grapefruit.  The parents take turns caring for the babies in the nest.  One at a time they go out into the surrounding woods, catch bugs and return to a wire near the nest.  They wait for a moment inspecting the area, then quickly fly into the nest to feed the babies and depart.  The parents repeat this act endlessly throughout the day. 


Our woodland neighbors pay a visit.
Our get-away home in the woods of Eastern Washington is our quiet solitude. We are always reminded that we share this piece of heaven with nature and the many creatures, big and small, that live here year round. The neighborhood squirrels always know there are peanuts for them to gather at our house when we're here. This box on the tree was here when we moved in, obviously used for many years before. We've continued the practice and our woodland friends seem to appreciate it.  Even when we aren't watching them, the sound of the wooden door opening and closing through the day and night is a pleasant reminder they're here.


A Visit to North Twin Lakes (Inchelium Washington)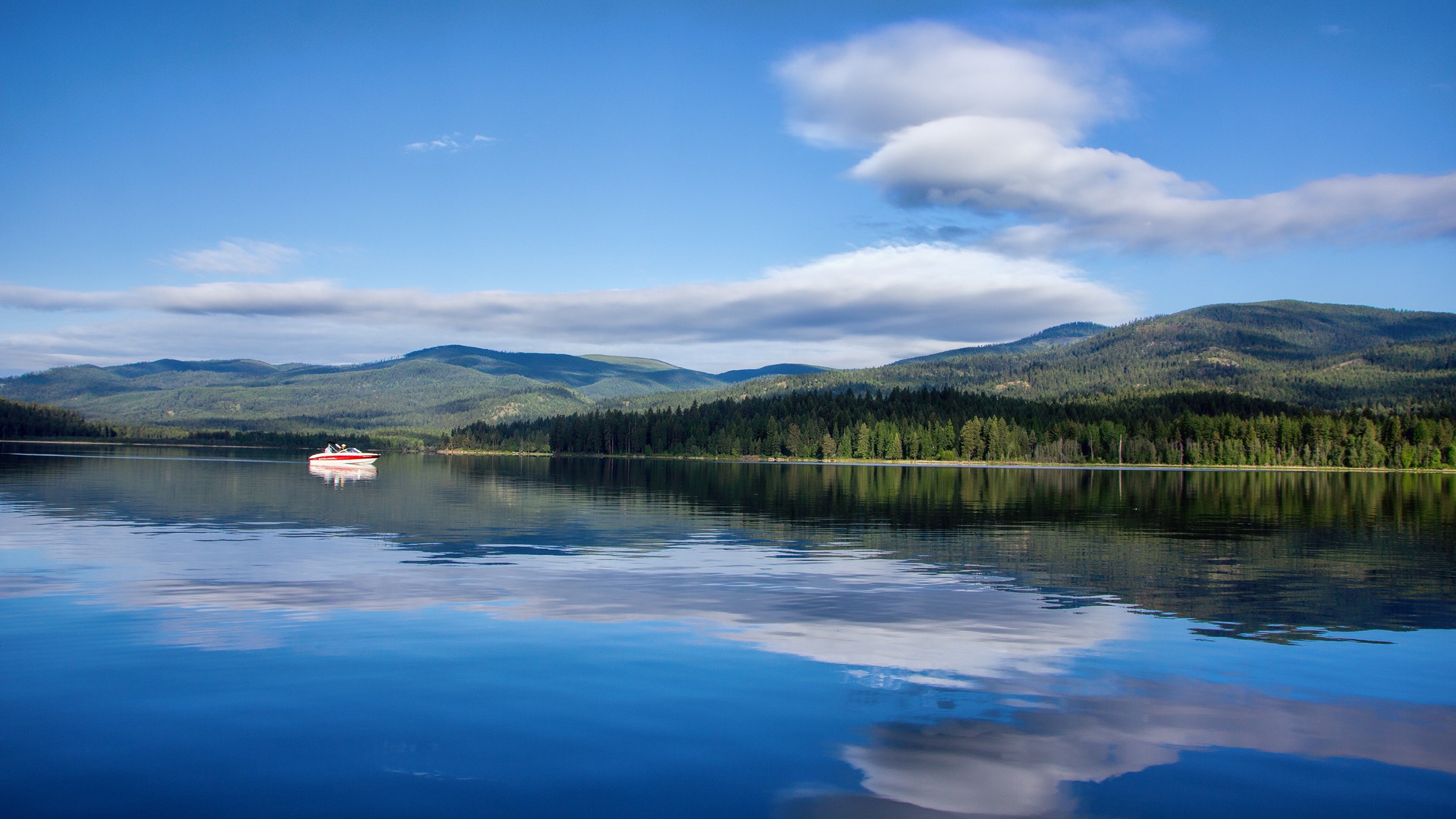 It isn't really possible to describe the beauty and peacefulness of this place.  Our home away from home, Twin Lakes, Washington.  The lakes are located in the far northeast corner of Washington state nestled in the mountains and trees of the Colville Indian Reservation.  We've been coming to this place to rest and regenerate for many years. Native residents have called these lands home for a millennia.  Years ago the lakes inspired me to to capture the beauty in photographs.  You could say these Twin Lakes were my original muse. As I have so many times before, I was on the lake just after sunrise with my camera.  It was a perfect morning.  I immediately saw two bald eagles, a pair of common loons with their babies, and the glow of the morning light was perfect.  The air was crisp and clean.  And I sat on the boat and listened to the ripple of water and calm call of the birds.  I decided to try something new and test the video features of my camera. The volume is a bit low, so you may need to turn it up a bit.  The video won't win any awards, but just maybe I can share with you a moment of that perfect morning on North Twin Lake.